Vietnam Online Business Forum - VOBF is an annual event organized by the Vietnam E-commerce Association, which has received high attention from the online business community. In 2019 VECOM cooperated with the Vietnam E-Commerce and Digital Economy Agency (iDEA) to organize this Forum in Hanoi (March 26, 2019, Ho Chi Minh City (March 28, 2019) and Da Nang (15 / 03/2019).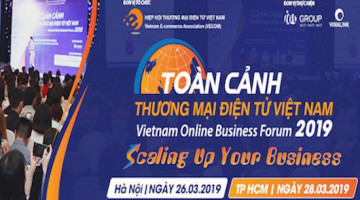 VOBF attracts the participation of many agencies, organizations, businesses and individuals operating in the field of e-commerce in order to create opportunities to discuss new trends in online business and floating technologies. turn on and innovative business ideas; Also at the forum, the E-Business Index will be published. Based on EBI 2019 VECOM has proposed to many ministries and agencies to implement the Program "Development of sustainable e-commerce in the period of 2019 - 2025". The first phase of this Program, implemented in 2019-2020, will mobilize many resources to support a number of industries in successful online businesses such as Dua products in Ben Tre; bamboo products in Thanh Hoa and Nghe An ...
To update the situation of activities in the framework of this year's event. Vietnam E-commerce Association will hold an event press conference "Vietnam Online Business Forum - VOBF 2019"
Information about the press conference is as follows:
- Time: 14:30 - 16:00 Tuesday, March 12, 2019
- Location: 2nd Floor, Ministry of Industry and Trade, No. 23 Ngo Quyen, Hoan Kiem, Hanoi
- Information about 2019 VOBF Forum is available at website: https://vobf.vecom.vn
To facilitate the organization, you are interested in registering online here: https://goo.gl/forms/WvgMKPyQ0NyA8XBr2 before March 12, 2019.
VECOM.