[Khanh Hoa, January 15th, 2021], In the series of VECOM's joint activities, the annual Executive Committee meeting is held annually to review, evaluate the archived results and build, comment and complement the 2021 work plan.
This plan is written according to operation in term of 2016 – 2020 appoved by 3rd National Congress of Vietnam E-Commerce Association (VECOM), the implementation situation in 2016 – 2020, the Overal Plan for National e-commerce development in the period of 2021 - 2025 and e-commerce development practices. According to the Association's evaluations, in 2020, the country is in serious difficulties due to the Covid-19 pandemic, but e-commerce basically stands, and even a breakthrough in some fields. Combining all factors that can be predicted that Vietnam's e-commerce in 2021 will achieve a growth equivalent to the average level of the period 2016-2020.
In legal policy consultancy and criticism plan for the next year, VECOM's top priority in 2021 is to continue to advise and criticize the draft Decree amending and supplementing Decree 52/2013/ND-CP on e-commerce to create a favorable legal environment for commercial development e-commerce, actively participate in comments and criticism on draft policies and laws directly related to e-commerce, such as the Law on E-transactions.
Highly concern about activities on some specific issues of policies and laws such as 1) the responsibilities of the e-commerce service providers; 2) online dispute resolution in the form of mediation or arbitration; 3) introducing and selling goods on social networks; 4) manage the last-mile delivery business; 5) customs regulations for the importation of goods across borders; 6) e-money, crypto currency.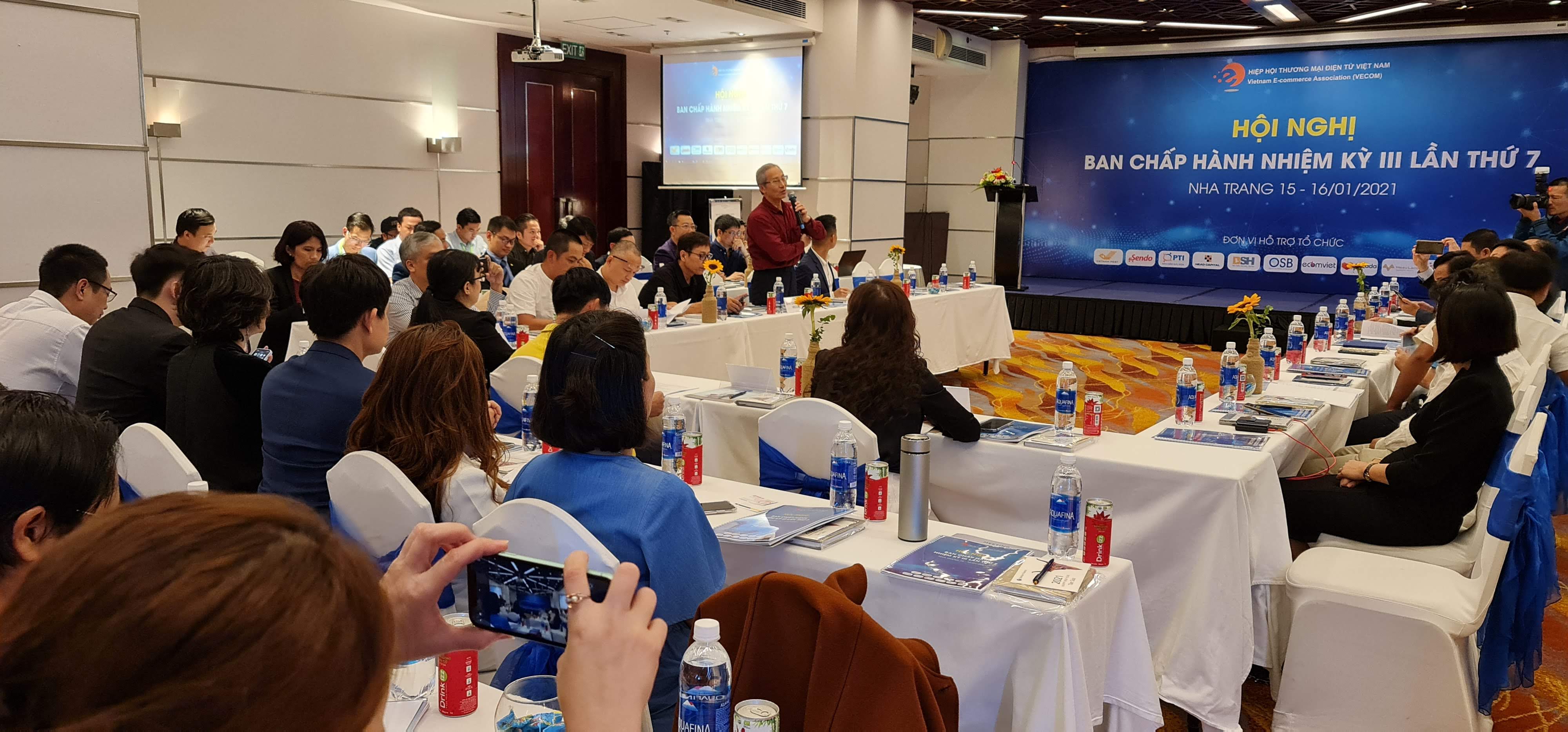 The main activities:
1. Program "Sustainable e-commerce development over the period of 2019-2025"
In 2021, VECOM will accelerate the implementation of this program with the following contents:
i) Actively invite local Departments of Industry and Trade to support and participate in the Program, practically support local businesses to transform digitally, effectively deploy e-commerce.
ii) Closely coordinating with the Vietnam E-commerce and Digital Economy Agency,
the Ministry of Industry and Trade implement solutions to achieve the goal of accelerating e-commerce in localities.
iii) Coordinate with Google and some VECOM members to jointly implement the Retail University training program with the theme Growth Retail to implement training programs for leaders and staff at retail businesses.
iv) Coordinate with other organizations that have the same goal of supporting the development of e-commerce in the localities.
2. Import-Export cross-border
The VECOM's main goal is to promote online exports of both B2B and B2C forms. To achieve this goal, It's necessary to create a favorable environment and support enterprises to effectively apply online export-related platforms.
In 2021 and the next years, VECOM will continue to promote activities online exports. When implementing this activity, it is necessary to strengthen close cooperation with the Vietnam Trade Promotion Agency and Agency of Foreign Trade under the Ministry of Industry and Trade.
3. Digital transformation in the Tourism sector
Successful digital transformation has great implications for the Vietnamese tourism
sector. Every year, VECOM has cooperated with the VITA to organize an annual event of the Online Tourism Day. But in the year 2021 and the next phase, VECOM needs to implement more practical activities to promote digital transformation in the tourism sector. In addition to the close cooperation with VITA, VECOM needs to promote cooperation with big platforms such as Google, Facebook as well as domestic IT businesses.
4. Education Technology - EdTech
The fast-growing trend of FinTech, HealthTech, and EdTech sectors has been quite clear in recent years. In the year 2021 andthe following years, VECOM should pay more attention to the EdTech sector and implement specific activities such as inviting businesses in this field to join the Association; consulting, and reviewing policies, and related laws, organizing events such as seminars, forums, etc. connect and share information among stakeholders.
5. Application blockchain technology
The main operational goal of VietBlockchain is to apply this technology in logistics and product traceability, thereby supporting the development of e-commerce.
In the year 2021 and the next year, VECOM needs to promote blockchain technology application activities for the development of online business.
6. Online dispute resolution
The current administrative, court, and arbitration system is ineffective to resolve a very large number of disputes in e-commerce with the average transaction value of each case is not too large.
VECOM needs to coordinate with relevant organizations such as VCCI, law firms, and large e-commerce floors to research, propose, and implement compact, reliable, and effective dispute resolution mechanisms and tools.
Expected outstanding events in 2021:
1. Vietnam Online Business Forum 2020 (March, 2020)
In 2021, VECOM will continue to co-operate with Vietnam E-commerce and Digital Economy Agency (iDEA) to organize annual event (Vietnam Online Business Forum - VOBF) in both Hanoi City and Ho Chi Minh City.
VOBF will public the latest market research in term of business online, including E business Index-EBI 2021.
VECOM will invite leading online-business organizations and businesses to participate in forum.
2. Vietnam Online Tourism Day (June, 2021)
Since 2016, VECOM has determined that online tourism has a potential for rapid development. However, this field requires high concern of policy-makers and the coordination among businesses. In 2017, VECOM organized Online Tourism Forum to attract the attention of many stakeholders.
September 2020, VECOM organized an Online Tourism Day in Hanoi with a theme of Digital Transformation in Tourism. This event in 2021 should highlight the cooperation between VECOM and VITA and relevant agencies in the tourism industry digital transformation.
3. Vietnam Online Import Export Forum (July, 2021)
The Vietnam Online Import Export Forum 2020 is a continuation of the first online Import Export Conference held in 2017, etc.
With the heavy impact of Covid-19, the digital transformation in import and export of goods will take place very strongly in 2020, especially in export promotion activities. In addition to the agencies that have close cooperation in this field such as the Agency of Foreign Trade, the Vietnam E-Commerce and Digital Economy Agency, the General Department of Vietnam Customs, in 2021, VECOM should actively introduce this Forum to the Vietrade and invite Vietrade to participate.
4. Vietnam Online Marketing Forum - VOMF (August/2021)
Vietnam Online Marketing Forum (VOMF) has been held continuously for many years. Although the Covid-19 epidemic, VECOM still organized this Forum in October 2020 in Hanoi and Ho Chi Minh City. Information about VOMF over the years is available at https://www.vomf.vn/
VECOM will strive for VOMF 2021 to maintain its brand as the most official and prestigious event in the online marketing field in Vietnam. Expected events will be held in Hanoi and Ho Chi Minh City in August 2021.
5. Vietnam Fulfillment Service Forum 2021 (October 2021)
This event has been held almost continuously since 2014. FS 2020 forum was held on November 6, 2020, adjacent to the year-end online promotion season, so it has effectively supported many businesses and individuals, online salespeople.
FS Forum 2021 can be held in late October or early November in Hanoi or Ho Chi Minh City. FS 2021 needs to stick closely to this promotion season and support to connect relevant agencies such as e-commerce floors, logistics businesses, online payments, and digital marketing.
6. Vietnam E-Business Index 2021 Report (September to December 2021)
2021 is the 10th consecutive year that VECOM has built Vietnam E-business Index (EBI) under direction and support of iDEA.
Together with building qualified Report and mentioning to typical trend of e-commerce, VECOM has focused on introducing Index to major subjects including central and local state management agencies, businesses, research and training organizations, etc.
Building EBI needs enthusiastic support and expenses sponsor from agencies, organizations and members. From 2021, VECOM will strengthen cooperation with the Department of Post under the Ministry of Information and Communications to have more reliable information about postal services. And more, VECOM needs to be more active in calling for interested units to participate in supporting the development of the Association's branding and reputation indexes in the e-commerce field.
7. Other activities
Besides organizing major events by VECOM, in 2020, the Association will continue to coordinate or support some organizations and members to hold events as co-organizers, sponsors, and consultants, etc.
These activities including:
- Application of blockchain in traceability and logistics;
- Digital transformation in the fields of tourism, agriculture, import and export;
- Events, publications on digital marketing;
- Corporate social responsibility (for example Wildlife protection; Responsible alcohol trading, etc.);
- Programs for startup students and human resource training in universities.
8. Domestic and international cooperation
VECOM will continue to coordinate with functional agencies, provinces and international organizations to propagate, disseminate, train and connect extensive e-commerce cooperation for Vietnamese enterprises and contribute to the development of Vietnam's e-commerce market.
Download file:
2021 work plan Click here
Report Summary 2020 Click here
VECOM.