[Da Lat, January 06th, 2023], the Vietnam E-commerce Association (VECOM) held the 3rd Executive Committee Meeting for the fourth term at the VECOM Conference, summarizing and evaluating the results. achievements in 2022 and the adoption of the Work Plan for 2023.
This plan builds on the Operational Direction approved at the 4th National Congress of the Vietnam E-commerce Association, the implementation situation in 2016 - 2022, the Master Plan for Development development of national e-commerce in the period of 2021 - 2025 and the actual development of e-commerce in 2022 as well as new trends in 2023.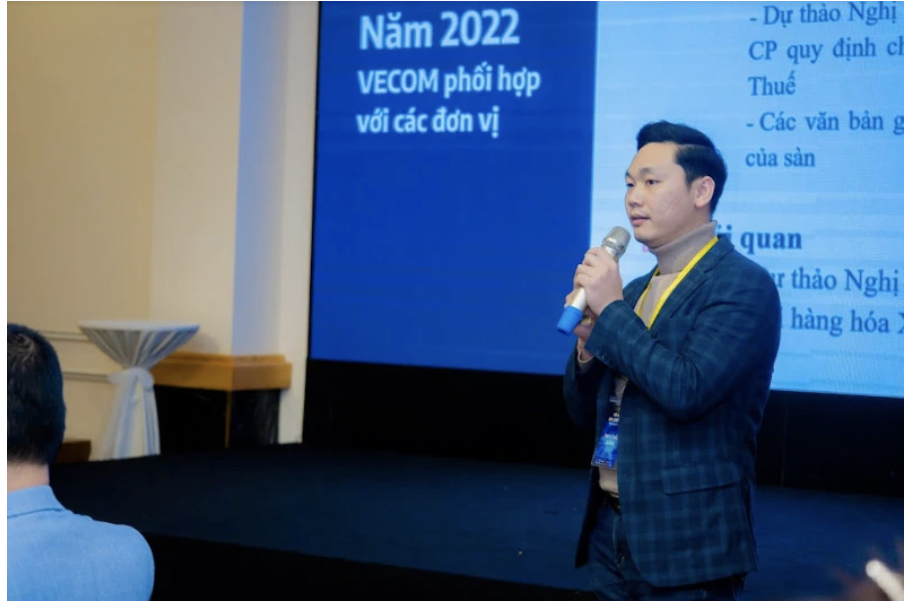 (Mr. Tran Van Trong - General Secretary of VECOM presented the work plan for 2023)
In 2023, VECOM will continue to promote the monitoring of the draft and promulgation of legal documents related to commerce in general and e-commerce, information and communication technology, advertising, and intellectual property, consumer protection, competition, delivery and logistics, payment, network safety.
In addition, dissemination and training activities on e-commerce are still carried out regularly to raise awareness and skills for the community.
Some outstanding events implemented in 2023:
1. Vietnam Online Business Forum - VOBF (March 2023)
In 2023, VECOM will continue to coordinate with the Department of E-commerce and Digital Economy (iDEA) to organize the annual event of Vietnam E-commerce Overview Forum (Vietnam Online Business Forum - VOBF) in the whole city of Hanoi. Noi and Ho Chi Minh City.
The event is an opportunity for all organizations, businesses and individuals to discuss the year's online business trends, market forecasts, emerging technologies and business ideas.
At VOBF will publish the latest market research on online business, including Vietnam E-Commerce Index Report 2023. VECOM will invite leading organizations and businesses in online business to participate. Forum.
2. E-commerce training forum at universities (May 2023)
In 2022, VECOM cooperated with the Network of E-commerce Training Institutions to organize two seminars on e-commerce training in Hanoi and Ho Chi Minh City. Ho Chi Minh. Each of these workshops brings together many schools in each region.
In 2023, it is necessary to organize a nationwide forum on e-commerce training, possibly in Da Nang. The content will include linking training with practice, organizing certification training programs for students. This certificate is accepted by schools as the equivalent of a number of courses with a certain number of credits. Through these training programs, it will connect member businesses with universities, promote members' brands, products and services.
3. Digital Transformation Forum in Import and Export (July 2023)
The Forum of Digital Transformation in Import and Export of goods in 2020 is a continuation of the first online Import and Export Conference held in 2017 (Ref: http://voief.vecom.vn/ and https:/ /www.vecom.vn/tin-tuc/tieu-diem/ Kinh-doanh-xuat-nhap-khau-truc-tuyen-doanh-nghiep-se-nhan-duoc-nhieu-ho-tro-trong-thoi-gian -toi).
Online import and export is a trend that many import and export businesses are interested in, in 2021 VECOM has coordinated with a number of partners and members to organize many activities to support import and export businesses through programs. online training training. However, this activity in 2022 has not been organized much.
Under the new normal, digital transformation in import and export of goods has taken place very strongly in 2022, especially in export promotion activities. This forum in 2023 needs to evaluate achievements and assess trends, technologies and solutions for stronger digital transformation from state management agencies to enterprises related to import and export. . In addition to agencies that have had close cooperation in this field such as the Import-Export Department, the Department of E-commerce and Digital Economy, the General Department of Customs, in 2023 VECOM needs to actively invite more agencies and organizations and related businesses participate.
4. VOMF Online Marketing Forum 2023 (September 2023)
Similar to the E-Commerce Panorama Forum, the Online Marketing Forum (VOMF) has been held continuously for many years. Despite the Covid-19 pandemic, VECOM still organizes this Forum in December 2021 in both Hanoi and Ho Chi Minh City. Ho Chi Minh. Information about VOMF over the years is available at https://www.vomf.vn/
In 2022 The Forum was successfully held in October 2022 and attracted the attention of many different audience groups in the Forum. VECOM will strive for VOMF 2023 to maintain its brand as the most prestigious and official event in the field of online marketing in Vietnam. The event is expected to be held in Hanoi and Ho Chi Minh City. Ho Chi Minh in September 2023.
5. Ecommerce EXPO 2023
Currently, the promotion of trade in e-commerce applications is becoming a global trend with fast and stable development. Especially in the context of the worldwide outbreak of the COVID-19 pandemic, the global economy is heavily impacted by the epidemic, and direct trade promotion activities are limited, the e-commerce application shopping activities are limited. growing opportunities for growth.
2022 is the first year the Association organizes the "Exhibition for connecting trade and promoting e-commerce applications (ECOMMERCE EXPO 2022). The online exhibition activities combined with the traditional Exhibition Fair model (offline form) have created opportunities for manufacturing and service enterprises to have more opportunities to access new solutions and introduce them at the same time. to customers/partners through online promotion channels, which is convenient to expand business activities
Activities within the framework of ECOMMERCE EXPO 2022 include:
Activity 1: Trade fair and e-commerce solutions application in enterprises 2022
Activity 2: Discussion forum on trade promotion solutions applying Digital Transformation in enterprises
Activity 3: Online Expo - Ecommerce Expo 2022. Expo link activated on December 16, 2022: http://expo.vecom.vn
ECOMMERCE EXPO 2022 is held close to the end of the year, so there are still many difficulties, in 2023 VECOM needs to have an early plan and continue to maintain this activity to become an annual big event in the field of online trade promotion. .
6. Vietnam E-Commerce Index 2023 (September – December 2023)
2023 is the 12th consecutive year that VECOM has developed the Vietnam E-Commerce Index (EBI) Report under the direction and support of the Department of E-commerce and Digital Economy.
Up to now, the Vietnam E-Commerce Index (EBI) Report has attracted great attention from domestic and foreign agencies, organizations and businesses, especially the attention of localities to rating index. More and more localities are paying attention to implementing specific activities with the goal of promoting e-commerce and improving the ranking according to the EBI index.
EBI construction activities need the enthusiastic support and funding of agencies, organizations and members. Since 2022, VECOM has strengthened cooperation with the Postal Department under the Ministry of Information and Communications, payment intermediaries, leading e-commerce platforms, delivery businesses, and commercial solution businesses. e-commerce… to have more objective data to support index ranking. VECOM needs to be more active in calling for interested units to participate in supporting the building of the Association's Quality Index to build brand and reputation in the field of e-commerce.
7. Digital Business Contest 2023 (August - December 2023)
In August 2022, the Vietnam E-commerce Association (VECOM) and the Network of E-commerce Training Universities (VecomNet) decided to hold the Digital Business Talent Contest every year. The launching ceremony of the first contest was organized by VECOM and National Economics University on October 8, 2022. This event received a warm response from dozens of universities and tens of thousands of students across the country.
The 2022 Business Talent Contest officially starts on the first day of November and ends on December 10, 2022. This contest marks a turning point of formal training activities at universities in e-commerce and digital business in our country. For the first time, thousands of students can do business on leading e-commerce platforms such as Lazada, Sapo, Haravan, PostMart or LadiPage. Moreover, many prominent businesses in the field of digital marketing and startup investment such as VinaLink, Accesstrade, Do Ventures or BambuUp have accompanied, advised and supported the teams during the competition. Online businesses such as Hung Vuong Insurance, Droppii and many other businesses have introduced their products and services to the competition teams, helping them to master product information so that they can "act the battle". " success.
8. Domestic and international cooperation.
VECOM will continue to coordinate with relevant authorities, provinces and international organizations to propagate, disseminate, train and connect in-depth e-commerce cooperation for Vietnamese businesses, contributing to contributing to the development of Vietnam's e-commerce market.
Download documents:
Work plan 2023: here
Activities Report 2022: here