[Da Nang, January 10, 2020] With the agreement of the Standing Board, the Vietnam E-Commerce Association has organized the 6th Executive Board Meeting for the IIIth term in Da Nang. This is an annual event held annually to summarize, evaluate the achieved results and develop and provide additional comments to complete the Work Plan for 2020.
This plan is written according to operating direction in term of 2016-2020 approved by 3rd National Congress of Vietnam E-Commerce Association (VECOM), the implementation situation in 2016 - 2019 and e-commerce development practices.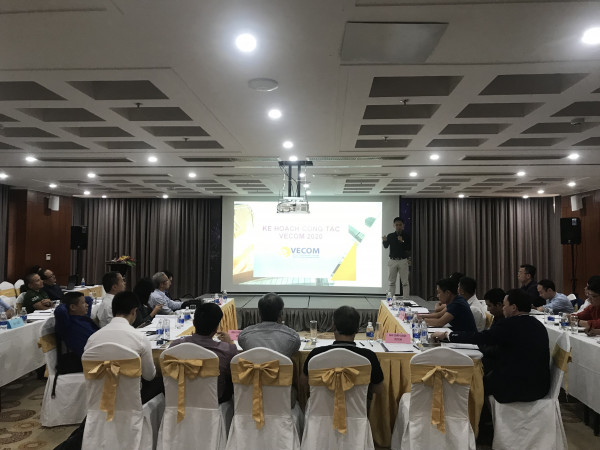 Mr. Tran Trong Tuyen - General Secretary of VECOM presented the Work Plan for 2020
In 2020, VECOM will keep track of drafting and promulgate legal documents related to commerce in general and e-commerce, information technology and communication, advertising, intellectual property, consumer protection, competition, delivery and logistics, payment, network security.
In 2019, VECOM cooperated with Association members to organize training courses on e-commerce, especially at localities. This action should be actively promoted in 2020 both in quality and quantity.
Expected outstanding events in 2020
1. Vietnam Online Business Forum 2020 (March, 2020)
In 2020, VECOM will continue to co-operate with Vietnam E-commerce and Digital Economy Agency (iDEA) to organize annual event (Vietnam Online Business Forum (VOBF) in both Hanoi City and Ho Chi Minh City.
VOBF will public the latest market research in term of business online, including E-business Index-EBI 2020.
In 2020, Forum should address interesting topics that meet practical needs of business community.
2. Conference on Online Tourism (May, 2020)
Since 2016, VECOM has determined that online tourism has a potential for rapid development. However, this field requires high concern of policy-makers and the coordination among businesses. In 2017, VECOM organized Online Tourism Forum to attract the attention of many stakeholders.
In 2020, VECOM is going to organize Conference on online business tourism in Ho Chi Minh City with the aim of enhancing connection between state management agencies, social organizations, tourism, technology, payment, insurance, transportation and marketing enterprises; create opportunities for the parties to exchange information on status, development potentials, impacts on business activities and policy and legal issues in online tourism activities, the roles of enterprises which provide online domestic travel services.
3. Vietnam Online Marketing Forum 2020 (August, 2020)
In 2020, VECOM will continue to organize Vietnam Online Marketing Forum (VOMF 2020) in August, 2020 with the same scale as previous years in Hanoi City and Ho Chi Minh City. Expanding this forum to other cities would be considered.
It can be seen that the number of e-commerce events in general and the online marketing field in particular is organized in Vietnam more and more with increasing scale. As an association, VECOM consider it as a positive trend needing to be encouraged. However, as organization unit, VECOM must constantly strive for their events in general and VOMF 2020 in particular to maintain the brand which is the most formal and prestigious event in the field of online marketing in Vietnam.
4. Vietnam E-payment Forum (September, 2020)
E-payments in the past few years are growing fast, especially the technology or banking businesses that provide fintech solutions, etc. Therefore, essential roles of state agencies and organizations should be required to create favorable conditions for this field.
With the desire to expand the dissemination, improve skills for both businesses and consumers when participating in online payment, VECOM will coordinate with reputable large units such as Visa, Napas to organize Vietnam E- Payment Forum.
5. Vietnam E-business Index 2020 (September-December, 2020)
2020 is the 9th consecutive year that VECOM has built Vietnam E-business Index (EBI) under direction and support of iDEA. This activity is a part of the National E- commerce Development Program in the period of 2014-2020.
Together with building qualified Report and mentioning to typical trend of e-commerce, VECOM has focused on introducing Index to major subjects including central and local state management agencies, businesses, research and training organizations.
6. Program "Sustainable e-commerce development over the period of 2019-2025"
In 2019, VECOM proposed to agencies, organizations to together build and implement Program "Sustainable e-commerce development over the period of 2019-2025".
- 1st activity: Organize E-commerce festival 2020
It will become means to help production enterprises to promote e-commerce in fast and convenience way. The program needs coordination of many agencies in provinces and cities across the country, leading enterprises to provide effective e-commerce promotion
solutions.
- 2nd activity: Disseminate and train about E-commerce at localities
In 2020, VECOM will continue to call for numerous active members and organize
workshop, training courses effectively for enterprises over the country.
7. Domestic and international cooperation
VECOM will continue to coordinate with functional agencies, provinces and international organizations to propagate, disseminate, train and connect extensive e-commerce cooperation for Vietnamese enterprises and contribute to the development of Vietnam's e-commerce market.
Download file:
2020 work plan Click here
Report Summary 2019 Click here
VECOM.