On April 9, 2019, Nearly 50 delegates from enterprises and coconut products businesses in Ben Tre province attended the seminar "Bringing e-commerce to the countryside – Ben Tre Coconut Village online" at the hall of the Provincial Department Lazada.vn of Industry and Trade.
Speaking at the seminar, Mr. Nguyen Ngoc Dung, Vice Chairman of Vietnam E-Commerce Association – VECOM said that "An unsymillable principle in the Vietnamese market is "to sell goods that must be marketed". However, in reality, farmers or small business households in rural areas still lack a lot of information and skills necessary to bring their products to market. So how can the specialty products of rural craft villages reach consumers throughout the country in the fastest way? E-commerce will help shorten this path, help trade villages expand their business, save marketing costs, and increase product value."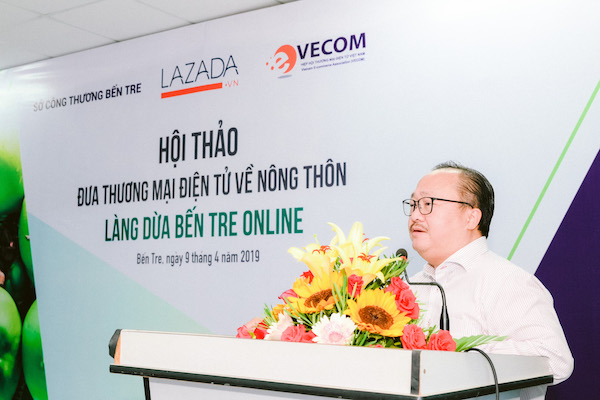 Mr. Nguyen Ngoc Dung, Vice Chairman of VECOM spoke
Mr. Vu Quoc Tuan, Director of External Relations lazada Vietnam shared that "Ben Tre Online Coconut Village Workshop is one of the activities within the framework of the project "Online Specialty Craft Village"– a new project implemented by Lazada Vietnam, to contribute to building a comprehensive and sustainable e-commerce ecosystem by 2030. Through specific activities, Lazada is committed to supporting 8 million small and medium-sized enterprises, serving 300 million customers, and creating 20 million job opportunities across the region. Ben Tre is the first locality to launch the project with the program "Ben Tre Coconut Village Day" scheduled to take place at the end of April 2019.
This project takes place in 2 phases. In phase 1, Lazada will cooperate with Vietnam Post Corporation (VN Post), Mat Typhoon BPO Company, and SAPO Joint Stock Company, together with the support of VECOM and The Department of Industry and Trade of Ben Tre Province, to organize training sessions for households and startups. , small and medium enterprises are producing and trading coconut products in Ben Tre. Specifically, at the last seminar, representatives from Lazada introduced the methods and processes to become a seller on Lazada along with tools to support sellers, the process of depositing goods with Lazada as well as how to sell through Lazada.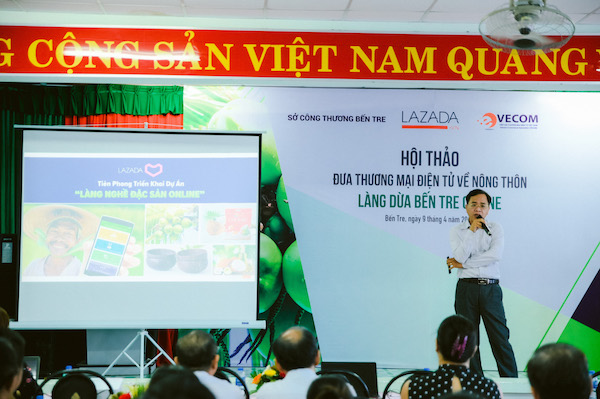 Mr. Vu Quoc Tuan, Director of Foreign Affairs Lazada Vietnam
Businesses in Ben Tre when participating in this program will enjoy 1 special support package including: free booth opening, free lifetime commission, free online sales training programs, design support, booth images , specialty labeling if there is a registration of geographical instructions ... The export of goods on international e-commerce floors is also supported by Lazada Vietnam in terms of necessary information and procedures. In addition, VNPost is also committed to supporting free shipping costs and prioritizing orders of Ben Tre Coconut Village on this day.
Phase 2 is expected to take place at the end of April 2019 with the program "Ben Tre Coconut Village Day" on Lazada E-commerce floor. On this day, Lazada will navigate the www.lazada.vn site's traffic to the booths of Ben Tre Coconut Village, along with other supporting tools such as home page banners, search engine optimization, promotion of marketing and communication activities to introduce coconut village products to consumers across the country.
Some photos at the workshop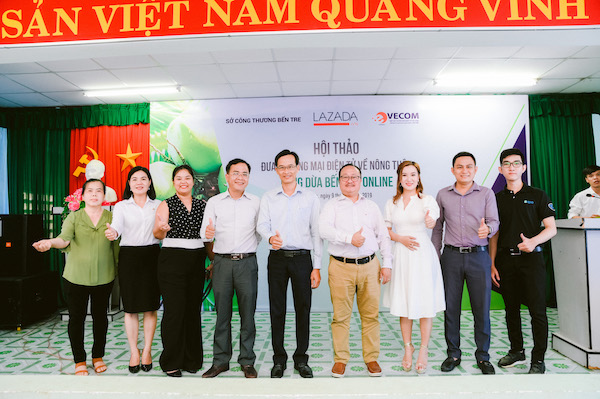 The units accompany the program "Ben Tre Coconut Village online"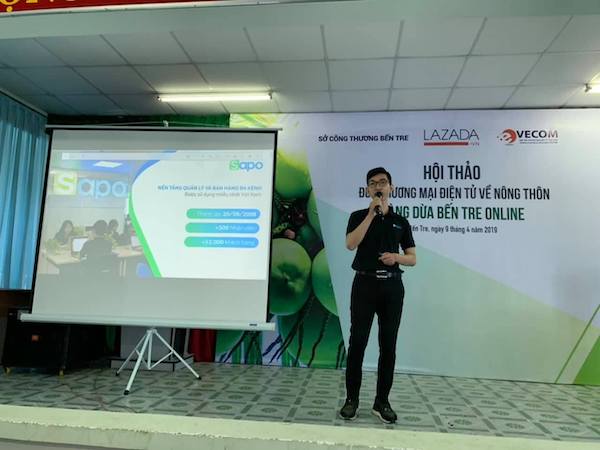 Mr. Ha Kim Son – Sapo representative shared.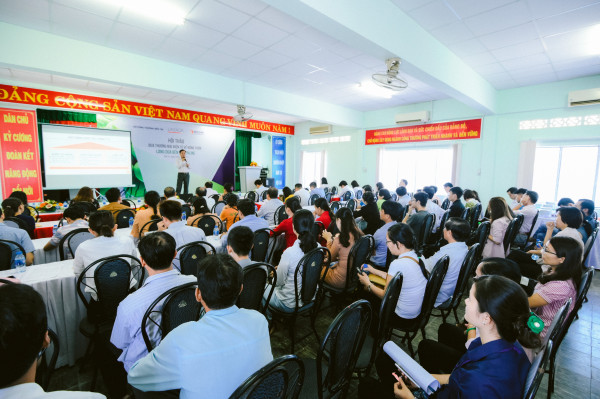 The sharing session attracted a lot of attention
Related news:
Sustainable Ecommerce Development Program Here
Support Ben Tre province to do coconut business online Here
Launching Ben Tre Online Coconut Project Here
VECOM