Vietnam Online Business Forum (VOBF), the biggest national e-commerce event organized by Vietnam E-commerce Association in collaboration with Vietnam E-commerce and Digital Economy Agency got high concern from online business community. With the topic "Break the Bound", VOBF 2019 expects that agencies, organizations, enterprises and individuals will break their limits and together discuss to find out new opportunities and targets.
Opening speech by Mrs. Lai Viet Anh, Deputy Director of Vietnam E-commerce and Digital Economy Agency showed that in recent years, Vietnam e-commerce is growing at a rapid pace. 2018 was considered as a vibrant development year of online business with a growth rate of about 30%. Thanks to the high growth rate, retail market size reached USD 7.8 billion by 2018 though this size in 2013 was just USD 4 billion. If growth rate in 2019 and 2020 keeps remaining 30% then by 2020, the retail market size will reach USD 13 billion, higher than the expected level in the general e-commerce development plan in term of 2016-2020.Under this goal, retail e-commerce size will reach 10 billion USD by 2020.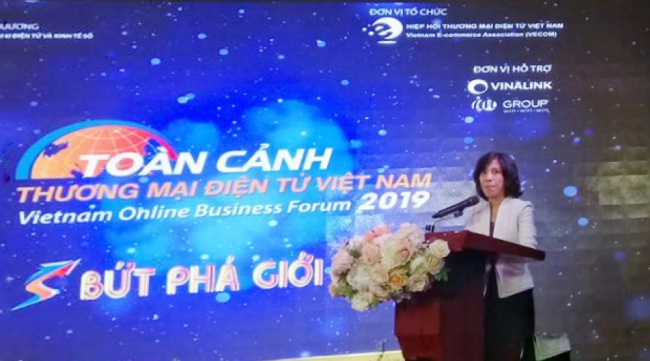 Mrs. Lai Viet Anh,Deputy Director of Vietnam E-commerce and Digital Economy Agency
addressed opening speech
The first session with the topic "Blooming online shopping" discussed the rapidly expanding market trend of e-commerce. 2019 is an important transitional year of support policies from the state, signed trade agreements and the maturity of online business support technology.This is a great opportunity for enterprises to step forward to scale up.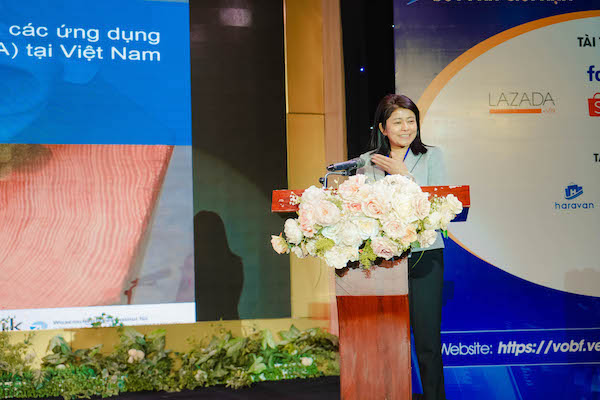 Mrs. Tenzin Dolma Norbhu, Head of Facebook's Policy for Asia Pacific
The noticeable thing shared by Mrs. Tenzin Dolma that Vietnam is considered a leading country in creating powerful interactive applications such as Zalo, BeeTalk, Mocha or working network as Vietnam works, etc. It is about 50% of the urban population in Vietnam is buying goods through media and social networks. She also mentioned that Zalo, Facebook and Viber play an important role in social commerce in Vietnam.
The second session with topic "Time is gold" discussed issues highly concerned by agencies, organizations and online businesses including e-commerce solutions and services in the era of many consumers who wish to receive products ordered online in time are calculated in hours.
The third session "The emergence of AI": In recent years, the application of cloud computing technology (cloud computing), big data (big data), and mobile (mobile) has become popular. How will artificial intelligence (AI), Internet of Things (IoT), virtual reality (VR) or blockchain affect our country's e-commerce in 2019 and the following years? These contents were introduced and shared by the speakers at the event
Last but not least, Session 4 "Capital or Idea"Starting a business is never simple, especially starting a business in the online business. The fourth topic "Capital or Idea" will help online entrepreneurs start to orient what are the similarities and differences of online startups with other areas? In addition to creative ideas, do entrepreneurs need any business and support environments from the state and professional organizations?The start-up session of VOBF 2019 with the presence of Mr. Tran Anh Vuong (Shark Vuong), Mr. Dat Pham-Founder & CEO Fado.vn, Mr. Pham Kim Hung-CEO Base.vn helps online business entrepreneurs orient what is the decisive factor in the adventurous adventure but also full of opportunities to become the new Unicorns of Vietnam.
At the forum, Mr. Nguyen Ky Minh, Executive Committee Member of VECOM published E-business Index (EBI) 2019. The annual E-business Index was synthesized from the four major component index groups: human resources and IT infrastructure (accounting for 20%),online transactions between businesses and consumers B2C (accounting for 35%), transactions between businesses and B2B businesses (accounting for 35%) and the component of government-business transaction index (accounting for 10%).These weighted points reflect the importance of promoting e-commerce in the current period.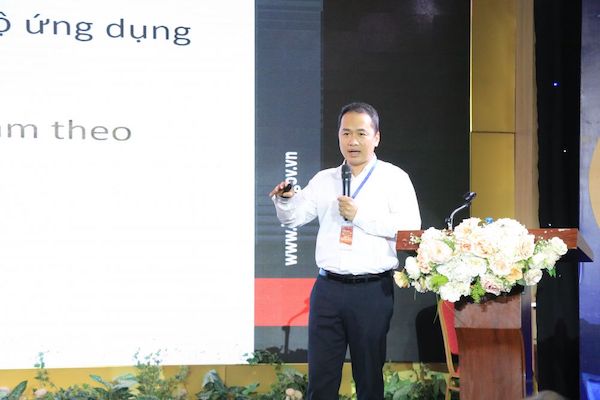 Mr. Nguyen Ky Minh- Executive Committee Member of VECOM reported E-Business Index at event
After 8 executive years, EBI has become a reliable source of information reflecting the current situation, outstanding issues and development trends of e-commerce both nationally and locally, contribute to the development of policies, laws, state management and business operations. Based on EBI 2019, VECOM has proposed to implement the sustainable e-commerce development program in the period of 2019 – 2025.
The first phase of this Program is implemented in 2019-2020, will mobilize resources to support a number of industries in successful online businesses such as coconut products in Ben Tre and bamboo in Thanh Hoa and Nghe An.
This year's forum with attendance of many speakers from leading organizations in the country and around the world such as Vietnam E-commerce and Digital Economy Agency, Facebook, Tiktok, Nielsen, Lazada, Shopee, Tiki, Sapo, Interspace, Fado, PA Vietnam, Vinalink, IMGroup, Zalo - VNG, VNPost, Haravan, EMS, Nhan Hoa brought many practical values as well as comprehensive pictures for thousands of delegates to the event and many people interested in online tracking.
The Organizing Committee would also like to thank the support of sponsors for the program: Facebook, Lazada, Shopee, Sapo, Mat Bao, Fado, PA Vietnam, VnPost, Nielsen, EMS, Zalo - VNG, Haravan, BSH, Grab, Tiktok, Accesstrade, VN Digital 4.0, Netco, Netnam, Vietguys, Nhan Hoa, VNNIC, Vinalink, IMGroup to help the program succeed.
Some photos at the Forum: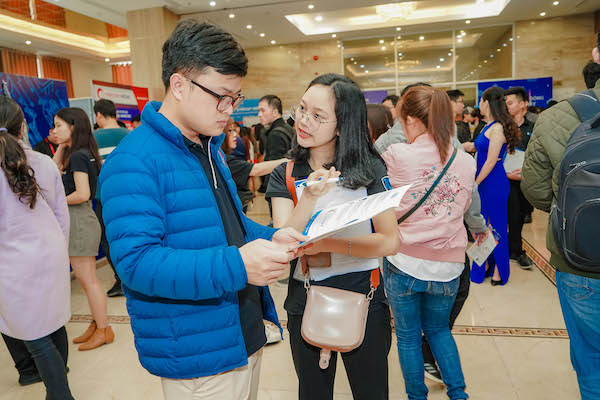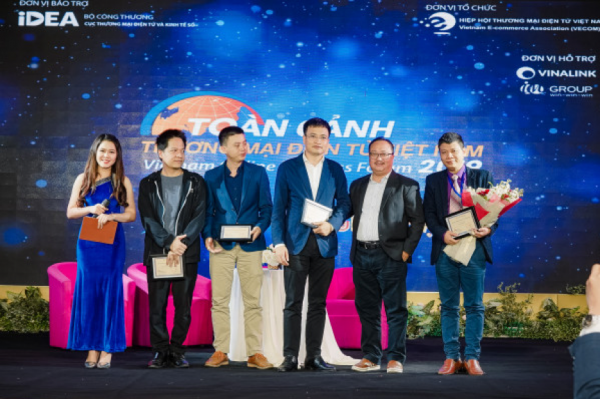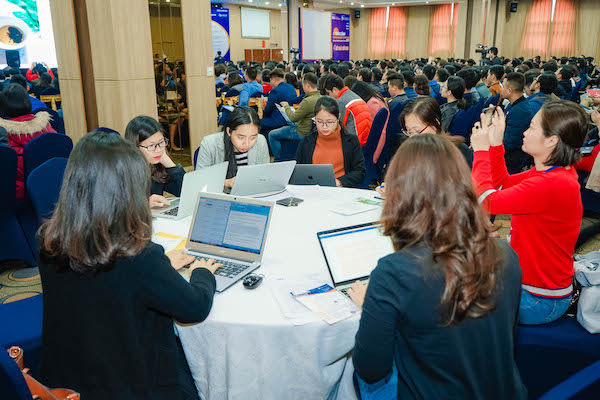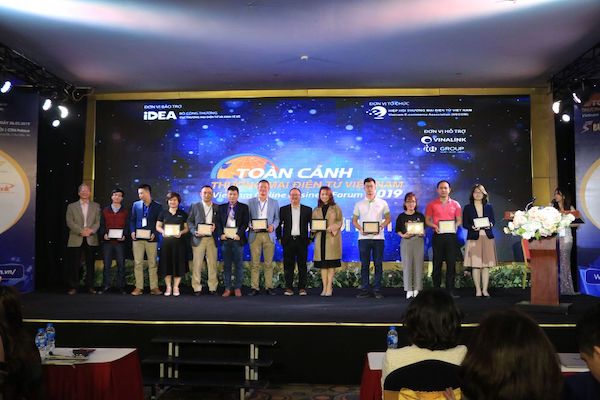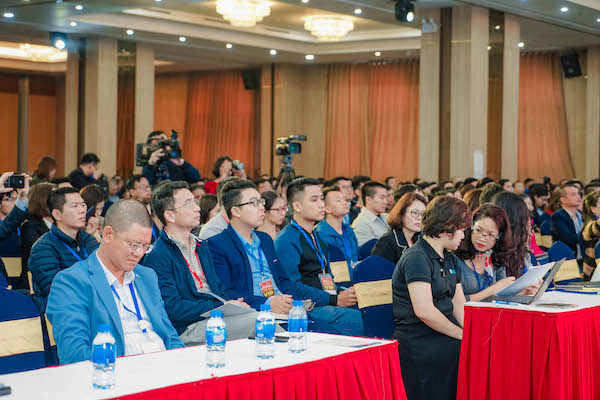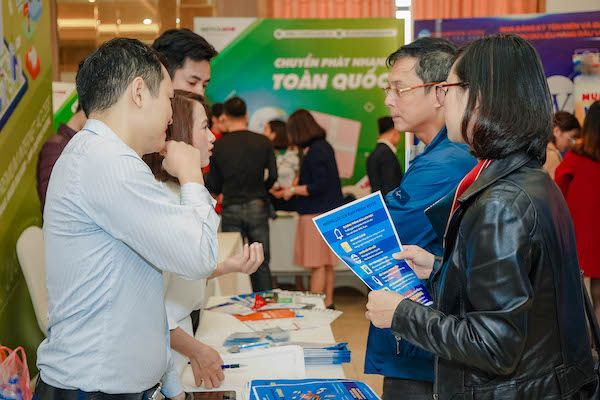 VECOM