On 16/12/2016 at the 3rd Executive Board meeting of the 3rd term, Vietnam E-commerce Association (VECOM) has approved the 2017 work plan.
At this 3rd conference, Mr. Tran Van Trong - Member of the Executive Board, Chief of the Office reported activities in 2016 undertaken by the Association. Accordingly, in 2016 the Association has successfully implemented and even exceeded the plan. After the successful national congress of the third term in April 2016, the Association strengthened its apparatus from the early days to ensure its uninterrupted operation.
Also in this conference, Mr. Tran Trong Tuyen - Secretary General of the Association presented 2017 work plan. He set the main tasks of the Association in 2017, including: Consulting, reviewing policies on e-commerce; Disseminating and training e-commerce; Holding annual events of the Association; Domestic and foreign cooperation between the Association and other organizations; Internal activities of the Association.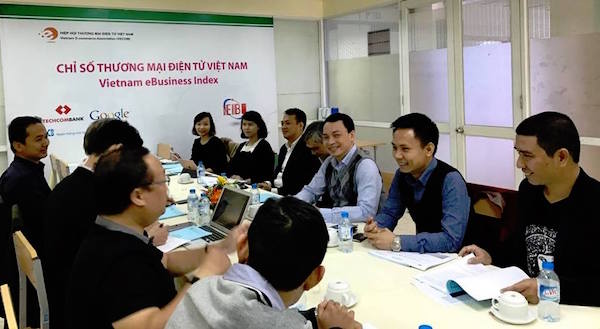 Annual events organized by the Association will dig deep into each specific area to solve problems of today Vietnam e-commerce:
• February, 2017 - Vietnam E-commerce Forum: an opportunity for all organizations, enterprises and individuals to discuss the trend of online business of the year, market forecasts, technology and outstanding business ideas;
• May, 2017 - Seminar on cross-border e-commerce: support domestic businesses and individuals to promote the online sale of Vietnamese products abroad;
• June, 2017 - Mobile Commerce Day: the largest conference on mobile sector in Vietnam, attracted many top businesses and technology professionals across the country.
• August 2017 - Online Marketing Forum: the largest forum on online marketing that was first held in 2016 and attracted great interest from the community. The event will take place on a larger scale by 2017;
• September 2017 - Online Payment Forum: with the aim of promoting online payment for retail e-commerce;
• October 2017 - Order fulfillment service: to improve the quality of this service and to create close-knit links between online sales businesses and order fulfillment service providers;
• November 2017 - E-business Index (EBI 2017): to assess the situation of e-commerce application in localities across the country;
• December 2017 - Online shopping day: the largest online shopping event of the year on a national scale.
VECOM