"Global buying, selling globally" is the vision Alibaba.com, the global B2B e-commerce website. Alibaba.com create conditions for goods to be traded globally, traders for free trading. This year, Alibaba.com to improve our business strategy in Vietnam, we will mainly focus on service quality and customer success. A bright future awaits! To take Vietnam's business to the next level, we need to recruit more qualified local partners.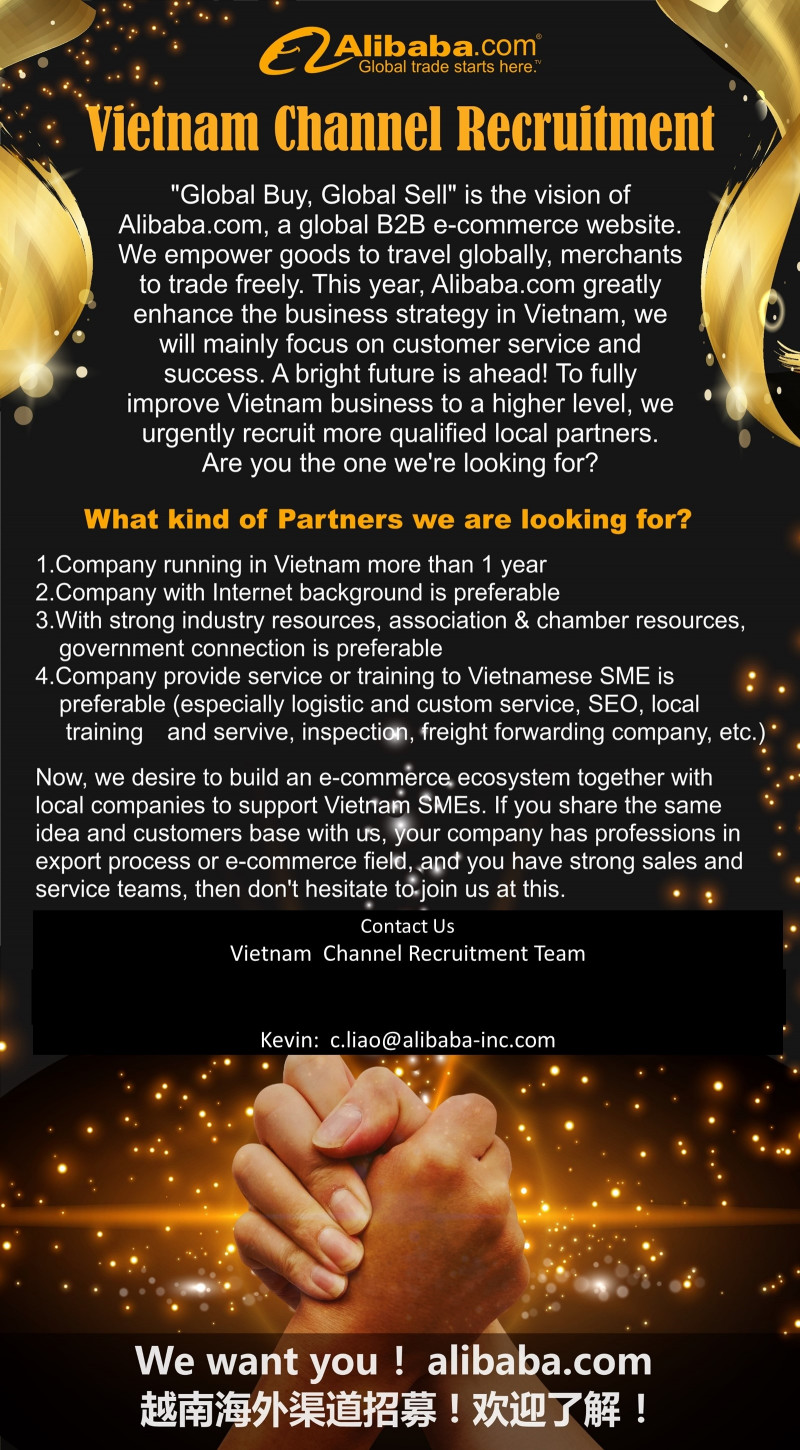 Currently, Alibaba wishes to build an e-commerce ecosystem together with local companies to support small and medium-sized enterprises in Vietnam. If you share the same ideas and customer base, your company has seniority in the field of export or e-commerce and has a strong sales and service team, please join with Alibaba.
What is an Authorized Agent?
Authorized agents help market and sell Global Vietnam's products, continuing Alibaba.com's mission to make it easier to do business everywhere. These Global Supplier products help businesses grow by reaching millions of business buyers worldwide, accompanied by easy-to-use tools and services that give them an advantage in the global market.
The partners we are looking for:
1. Internet-based companies
2.Have many connections with industries, organizations and associations, connect with government
3. The company provides services or training to small and medium enterprises in Vietnam (especially logistics and customization services, SEO, BPO, training and local services, freight delivery companies, etc.)
However, we still welcome you to contact us even if you may not consed with the above requirements.
Authorized Agent privileges──
★High earning potential
★Top training from Alibaba Group
★Highlights with Strong Marketing Resources
◎Contact:
Kevin Liao Senior Account Manager
ZALO ID:+886-938976292''
Mail:c.liao@alibaba-inc.com