Lazada pioneered the implementation of a contactless delivery model, helping users feel secure to make purchases at home during the Covid-19 epidemic.
Contactless delivery via smart lockers
Lazada is the first e-commerce platform in Vietnam to deploy automatic delivery service through smart lockers. Innovative solutions are highly appreciated when applying modern technology to logisics, helping customers actively receive goods without contact at close distance from delivery staff or sellers.
Lazada is the only e-commerce platform in Vietnam that currently deploys automatic delivery services through smart lockers.
To use this method of receiving goods, buyers can choose to shop for goods on the genuine LazMall or Lazada Department Store system, and enter the receiving address. After having information about the receiving address, Lazada will suggest the nearest iLogic SmartBox smart lockers for buyers to choose from. Customers can choose to pay in advance via bank card or via e-wallet. When the goods return to the cabinet, the platform will send a notification to customers through two methods: sending a message to the registered phone number, accompanied by an OTP code or sending a QR code to the registered email address, the Buyer can use the OTP code or QR code to open the smart locker and receive the goods.
In this way, users can choose their own time and place of pick-up so that it is convenient with a personal schedule, without having to worry about the possibility of infection through contact with people.
It is not until the outbreak of Covid-19 that this delivery model appears. This is an initiative announced by Lazada in Vietnam from the end of 2019 to increase the convenience of users through a variety of payment and receiving methods. In addition to smart lockers, users can receive goods at Collection points such as convenience stores, clothing stores, pharmacies ...
Currently, iLocker smart locker model has been implemented at 20 points in Hanoi and Ho Chi Minh City. In addition, there are more than 300 stores in Hanoi, Ho Chi Minh City and Can Tho that have become Lazada's Point of Destination partners. All of these points are displayed on the map to help users easily choose where to pick up goods near their home or workplace.
Increased safety for traditional delivery
In addition to implementing new forms of delivery, Lazada also proactively increases the necessary activities to ensure the safety of customers and delivery staff during traditional delivery.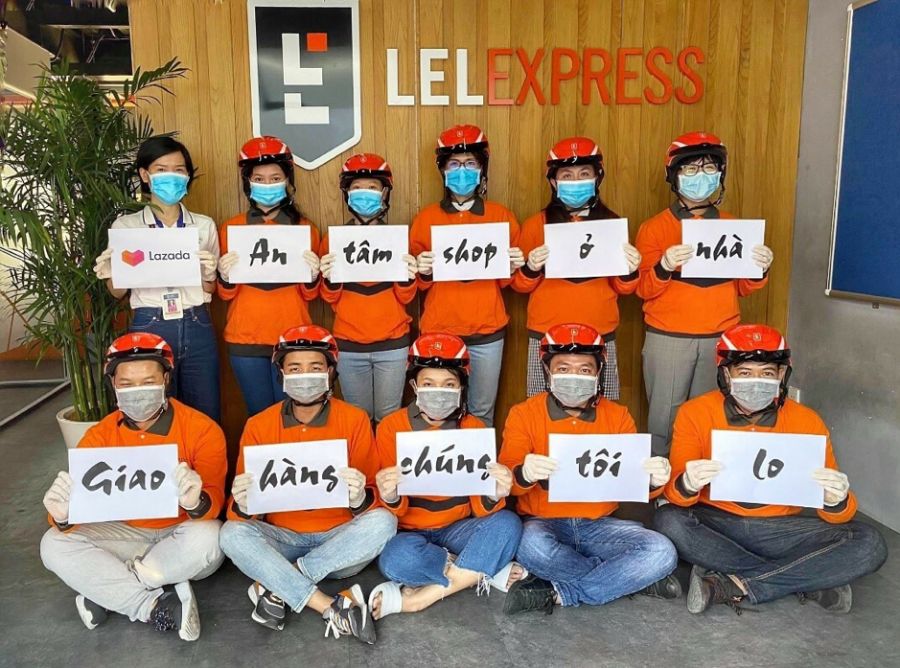 Illustrations
Specifically, all Lazada delivery staff are given temperature measurements at the beginning and end of each working day, which are given masks and hand-disinfectant water for use during work. In addition, Lazada's forwarding staffs are also instructed to maintain a safe distance from customers when conducting forwarding.
Towards non-cash payment methods
According to experts, in the current epidemic context, it is reasonable to encourage and promote non-cash payment, while ensuring to meet the living needs of people and prevent epidemics.
Responding to that trend, electronic payment methods are also prioritized and encouraged by Lazada. Lazada embarked with major domestic and international banks to implement co-branded cards with unprecedented privileges. people out are the disk incentives, deployment promotions, discount codes ... provided every day through cooperation between this unit and banks for users to pay by bank card, credit card or e-wallet.
Illustrations
Especially in big campaigns such as Lazada's 8th birthday shopping festival launched from March 20-27, this e-commerce platform launches tens of thousands of promotions every day to help users enjoy maximum incentives, in addition to a rich source of goods.
Along with that, this e-commerce platform also actively promotes promotions to share costs with customers in translation with a policy of reducing delivery fees, discounts up to 50%, and a specific list of recommended items to help prevent epidemics effectively.
"The demand for online shopping will continue to grow in Vietnam and our top priority is to provide the best shopping experience for consumers. We have actively worked with domestic and international brands and sellers to expand supply, diversify products to optimally meet the shopping needs of customers", said a representative of Lazada Vietnam.
Source: Vnexpress.net