In some countries, there are still beliefs about the healing power of rhino horn, especially the ability to cure cancer. From there, rhino horn was bought and sold at an unthimaginable price. Another part wants to own rhino horn to display or make gifts as a proof of their wealth. It is this mindset that makes Vietnam a hotspot for consuming and transferring rhino horn.
Vietnam – The hot road in the chain of transport for rhino horn consumption.
Biodiversity in Vietnam ranks 16th in the world. However, the current state of biodiversity conservation is also a pressing issue for the nation. The decline in forest resources in addition to the need to use wildlife to serve the needs and lives of forest-based communities has put many animals at risk of extinction. As of 2007, at least 4 species of animals and 1 plant species have been considered extinct in Vietnam such as Tapir, 2-horned rhinoceros, most recently (2012) is the extinction of the 1-horned rhinoceros.
According to TRAFFIC, the Global Wildlife Trade Monitoring Network, Vietnam, China and neighboring countries are the main markets for rhino horn consumption. In recent years, the number of illegal detections and arrests of rhino horn, ivory, pangolins ... in Vietnam is increasing with the nature of cases becoming more complicated, the tricks of smugglers are becoming more sophisticated, the number of infringing goods is arrested and confiscated more. The indirect reason why rhino poaching reaches record levels is the belief that rhino horn can "cure panacea" and to "show off" the wealth of the deviant, ill-edipt class.
According to the report of the Center for Nature Education (ENV), in the first half of 2020, ENV received an average of 8 calls due to people reporting wildlife violations every day. There have been 47 cases involving wildlife smuggling/transportation/trafficking, 425 involving illegal wildlife possession involving live animals. Among them are at least 3 arrests transporting rhino horn totaling over 30 kg.
According to the General Department of Customs, due to the Covid epidemic, in the first months of 2021, the situation of smuggling and illegal transportation of goods across the border of the near-Tet holidays tends to decrease compared to 2020, but on the air route, the number of arrests increased sharply with high-value goods. , easy to hide as wildlife products in the CITES category such as ivory, pangolin scales, rhino horn.
Especially on December 22, 2020, customs authorities arrested the largest rhino horn transport ever, a total of 51 horns (through preliminary examination of suspected African rhino horn), with a total weight of 93.96 kg, valued up to VND 40 billion.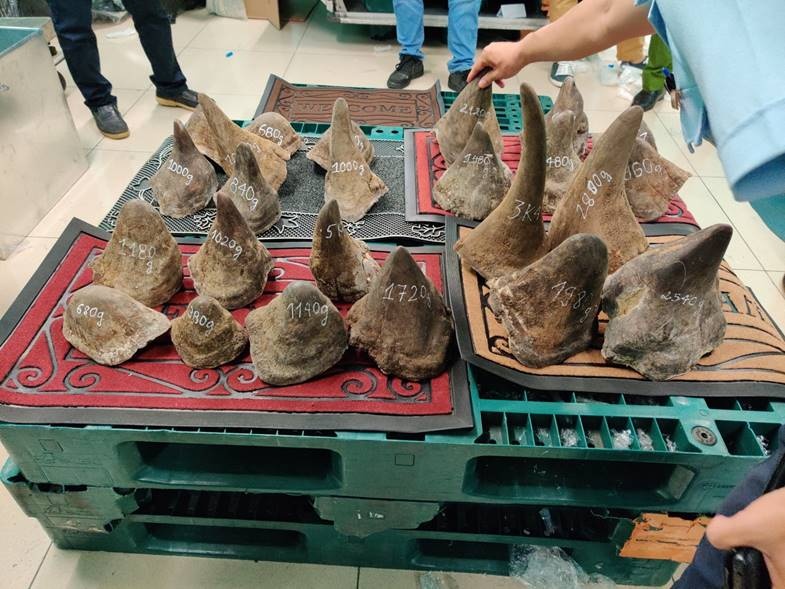 On December 22, 2020, 93.96kg of South African Rhino Horn was seized at Tan Son Nhat airport
In the last few years, the illegal wildlife trade has gradually caught up with the trend of digitalization, the number of articles for sale on the Internet is increasing alarmingly. "Free" business platforms, allowing users to easily communicate and be able to maintain identity security have become an open and flexible market for illegal behavior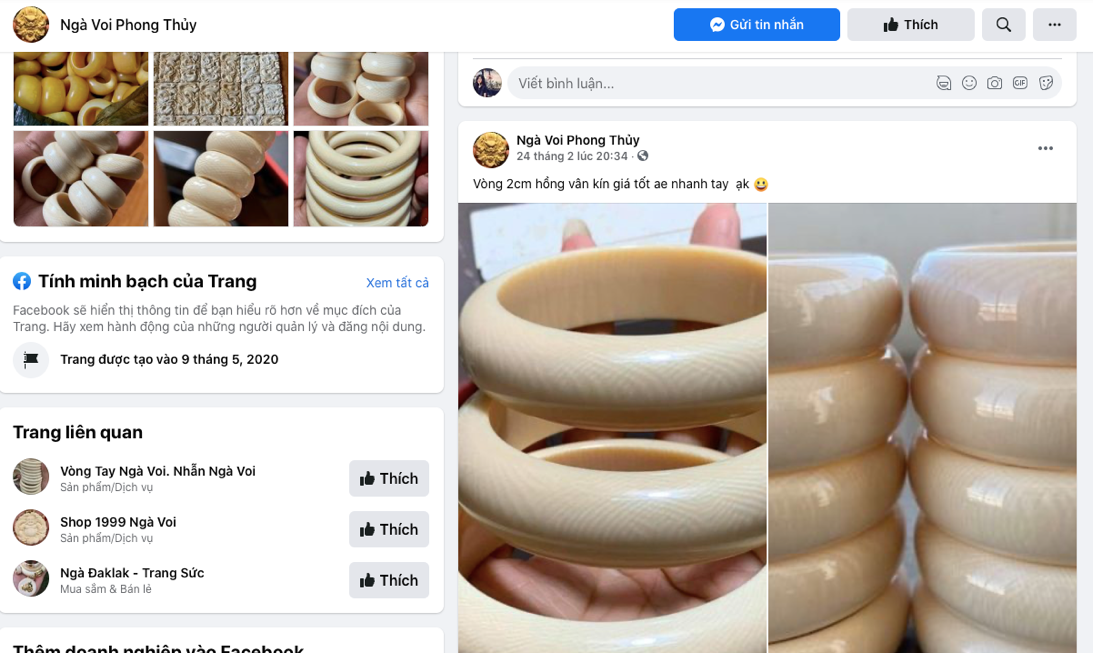 The sale of ivory products on Facebook

Public rhino horn delivery on youtube
In 2019, ENV recorded more than 2,400 cases of wildlife advertising on Facebook, YouTube, Zalo, Tiktok and other websites... This number still shows no signs of decreasing in the first months of 2020 with 424 violations as of April 30, 2020. This is one of the challenges for the authorities to prevent and control wildlife trafficking.
What to do to help rhinos get rid of the brink of extinction?
In recent times, many measures have been put in place to protect rhinos and other rare and precious wildlife species, so why is illegal hunting and transportation still taking place with increasing volumes of violations? The most important reason: there is new demand for supply. So effective conservation measures to help rhinos escape the brink of extinction are the need to reduce the bridge to rhino horn.
In order to reduce rhino horn bridge, the authorities need to take stronger measures, the radio needs to exploit authentic information, not stop at the slogan "rhino horn has no healing effect". Carry out clinical trials and review studies on the medical properties of rhino horn as a step forward to encourage the use of alternative products.
Currently, many business communities and individuals with a healthy living culture can organize and participate in wildlife day activities with marathons and inspire, join hands to rebuild ecosystems in protected areas. In addition, each individual needs to be equipped with adequate and proper knowledge about products derived from animals, sysever consumption to avoid hand-in-hand for acts contrary to the provisions of law.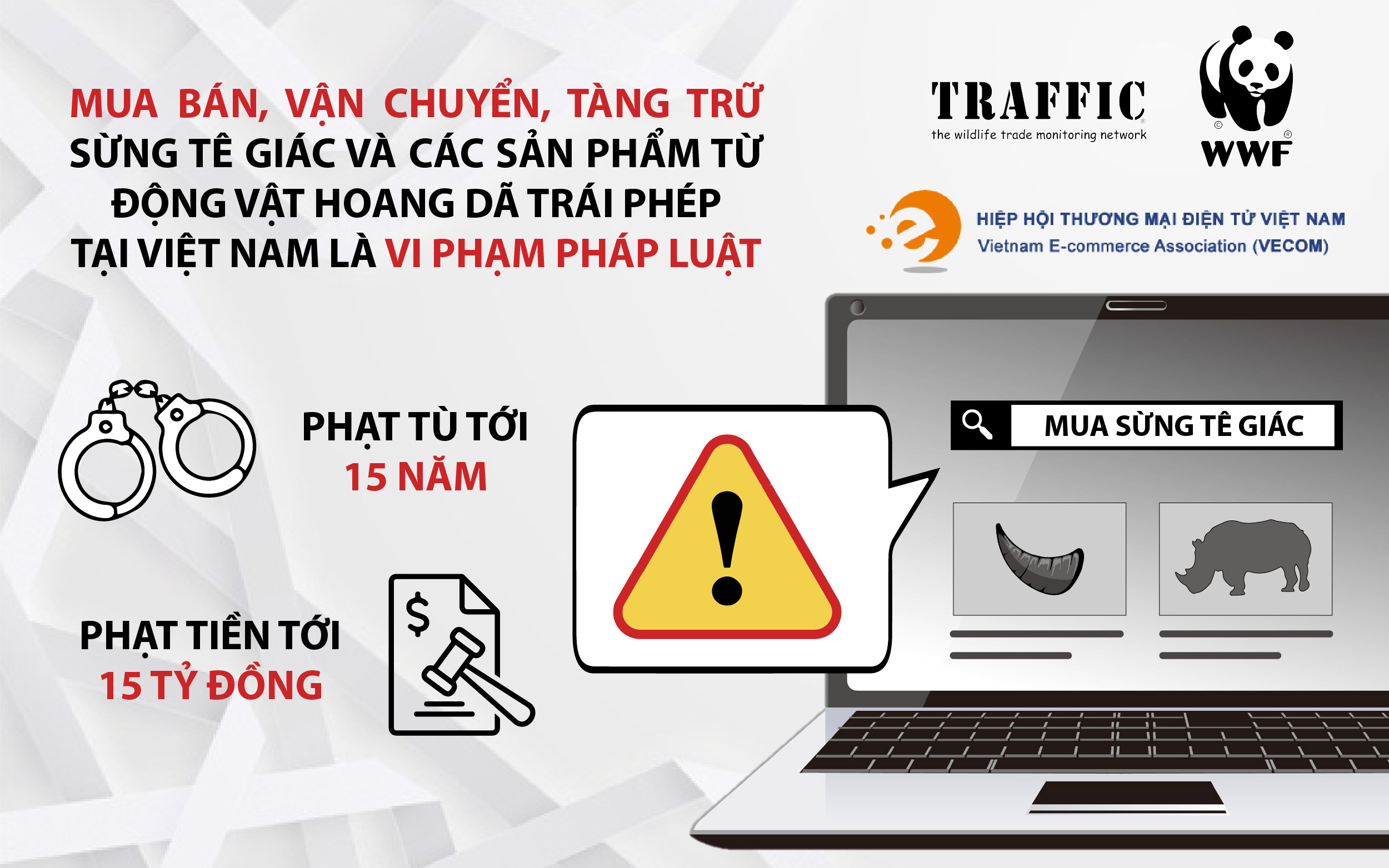 The revised Penal Code has issued stricter and stricter regulations for violations of regulations on management and protection of wildlife, specifically legal partners or enterprises allegedly violating the above provisions may be sanctioned up to VND 15 billion. , suspended from operation permanently; violators can be sentenced to up to 15 years in prison and fined up to VND 2 billion. Despite this, there are still legal loopholes that need to be considered such as the fact that individuals illegally storing less than 50g of rhino horn will be criminally liable.
"This verdict shows that the Government and law enforcement agencies in Vietnam have been making continuous efforts in fighting wildlife trafficking", said Sarah Ferguson, Director of TRAFFIC In Vietnam.
The Government of Vietnam needs to show strong political will to fight crimes of trafficking, storing, transporting and using rhino horn by vigorously enforcing penalty frames for violations, publicly handling and covering infringing information on media channels in order to widely deter. At the same time, consider and strengthen laws and penalties related to the illegal trade in rhino horn; end advertising and trade in rhino horn on the Internet.
VECOM.