According to experts' forecasts, 2019 is considered to be the booming year of online business. The expansion of cooperation of the world's leading e-commerce floors is a great opportunity for Vietnamese businesses to scale up, as well as access to many new markets.
However, to effectively take advantage of opportunities from this form of business depends greatly on the thorough preparation and investment of the businesses themselves. The article discusses export trends through e-commerce and makes a number of recommendations to promote this activity in the future.
Export trends via e-commerce
Along with Vietnam's deep economic integration into the global economy, cross-border e-commerce has also flourished, requiring the State to have flexible policies and solutions to promote the benefits and minimize the negative effects of this advanced form of trade. With a low starting point of about $4 billion in 2015, but thanks to the average growth rate for three consecutive years, the size of the e-commerce market in 2018 reached about 7.8 billion USD. If the growth rate of 2019 and 2020 continues at 30% then by 2020 the market size will reach 13 billion USD.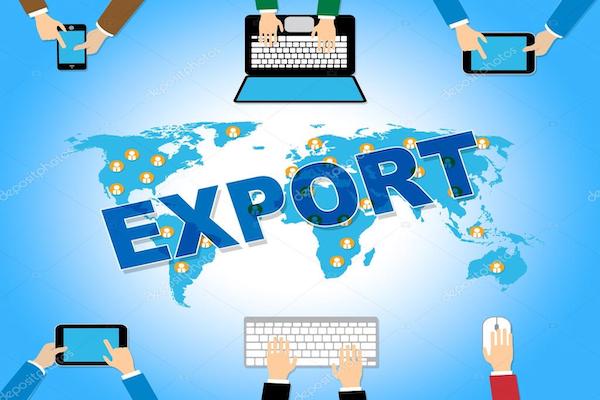 In particular, exporting through e-commerce is becoming a prominent trend and is increasingly being fully exploited by businesses. Recently, stories such as Andre Gift Shop, Paper Color ... appearing on the e-commerce site dubbed the "global online market" Amazon.com is increasingly popular and the results are positive. Many traditional Vietnamese products have attracted international consumers, so purchasing power has also increased with helping companies increase sales quickly.
In order to support the business community, especially small and medium-sized enterprises (SMEs) to boost exports through e-commerce, recently, the Trade Promotion Department (Ministry of Industry and Trade) and Amazon Global Selling have agreed to implement a coordinated plan between now and 2021 with the main contents including: Global export program through e-commerce; E-commerce brand development program with Amazon; E-commerce training program for Vietnamese enterprises. In particular, the Global Export Program through e-commerce has selected 100 Vietnamese enterprises with potential products to train skills, support direct consultation and connect to a network of support services that have been specifically designed for the program to bring exported products to Amazon e-commerce system in the United States in June 2019. Amazon has e-commerce sites in 18 countries, supporting 27 languages and a diverse portfolio of goods. Businesses selling on Amazon come from more than 130 different countries.
When cooperating with global e-commerce site Amazon.com is expected to boost exports and expand the market for businesses. , the company to customers) but has the opportunity to reach a large number of individual customers globally at a reasonable cost, thereby helping to increase sales significantly.
Challenges, barriers
Currently, export activities through e-commerce still have some issues of concern. For example, the characteristics of cross-border e-commerce of type B2C or C2C are low-value consumer goods. According to a preliminary survey by the E-Commerce Association (VECOM), items priced under $30 account for up to 80%. Therefore, the cost of presenting paper documents to buy foreign currency and paying in accordance with regulations is very high compared to the product value, not to mention the cost of a remittance phone is approximately USD 20 per electricity. Therefore, there is an e-commerce platform that is in a situation of collecting money but not transferring it to the seller, leading to the situation of having to use the situation measure thanks to the parent company abroad to pay for it, then clear it with other transactions.
Before that situation, some e-commerce enterprises proposed to allow: Buy foreign currency from cash sources; Instead of presenting customs declarations with customs data connection Replace invoices with information ... According to VECOM, for e-commerce products, the fact that the law has not accepted a shortened form of payment with electronic data instead of paper documents has created many obstacles to the development of cross-border e-commerce, while creating a lack of transparency in the payment process.
For consumers, they do not have access to products commensurate with sending money and the right to return goods when the goods are not as advertised. Allowing only traditional paper documents in international payments and no data connection is not suitable for the modernization process and the growing needs of customers.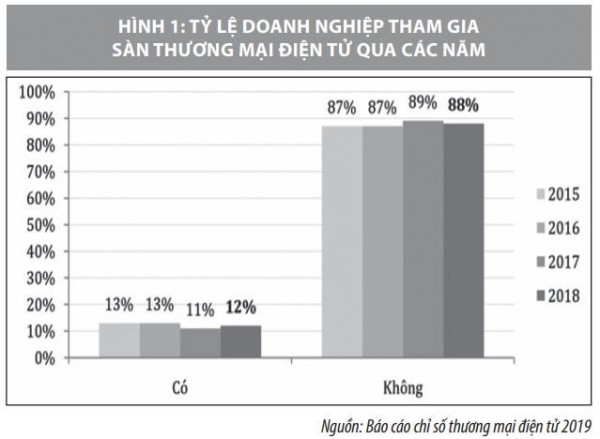 According to data from the Department of E-Commerce and Digital Economy (Ministry of Industry and Trade), up to now, about 11% of Vietnamese enterprises participate in e-commerce floors, 35% of enterprises can establish relationships with foreign partners through online channels. In the past 5 years, the number of businesses owning e-commerce websites has decreased slightly. The reason for investing in a website is not difficult, the cost is cheap, but to keep that website operating effectively, regularly and long-term needs proper investment and must have regular interaction with users. In fact, the key of enterprises has not been able to boost exports through e-commerce due to limited skills of enterprises. There are only a few people in and out of the e-commerce platform, so they do not know the ways to market, sell ...
With so many barriers, encouraging businesses to participate in exporting via e-commerce becomes quite difficult. This is evidenced by the fact that although the authorities and major e-commerce platforms are currently trying to pull businesses and business individuals into this form of export, only about 1,000 enterprises participated on Alibaba and about 200 enterprises participated on Amazon. , still too small compared to more than 700,000 active enterprises, of which 98% are SMEs. In addition, according to VECOM, by the end of 2018, cross-border e-commerce activities of type B2C also faced many difficulties in both export and import dimensions ...
Some recommendations
Developing cross-border e-commerce, as shown by boosting exports through e-commerce is becoming an inevitable trend and increasingly becoming an important channel in the export activities of enterprises. :
On the part of the regulator
Firstly, complete the legal infrastructure for e-commerce with a comprehensive system of legal documents, keeping up with the development practices of different e-commerce models and activities in society.
Secondly, building and developing a national e-commerce payment system, e-payment integration utilities for widespread use for e-commerce models, especially e-commerce enterprises – consumers, enterprises – enterprises, governments – people, governments – enterprises.
See more news at http://tapchitaichinh.vn/tai-chinh-kinh-doanh/xuat-khau-qua-thuong-mai-dien-tu-va-mot-so-khuyen-nghi-309351.html
According to the Financial Journal
VECOM.