On June 1 2021, Fado.vn has officially put its FADO Loyalty Program based on Blockchain technology into operation
Thanks to decentralized storage, security and transparency, Blockchain has tremendous potential for practical applications such as medical records storage, civil status management, transaction management, or traceability. However, applying Blockchain in real-life and in business and creating intrinsic value is not easy.
With a high commitment, Fado and KardiaChain, one of the Vietnamese leading blockchain platforms founded by former executives who have many years of experiences working in Silicon Valley, has successfully developed and put into application the Blockchain Loyalty Program system. This is the next generation of the current points system. , only the world's leading corporations are integrating. This proves that Vietnam's Information Technology capacity is not inferior to that of other advanced countries in the world. The system has achieved the high characteristic criteria of Blockchain: Transparency of transactions, flexibility, application diversity and safety in storage.
The platform will be gradually converted to more than 700.000 FADO customers.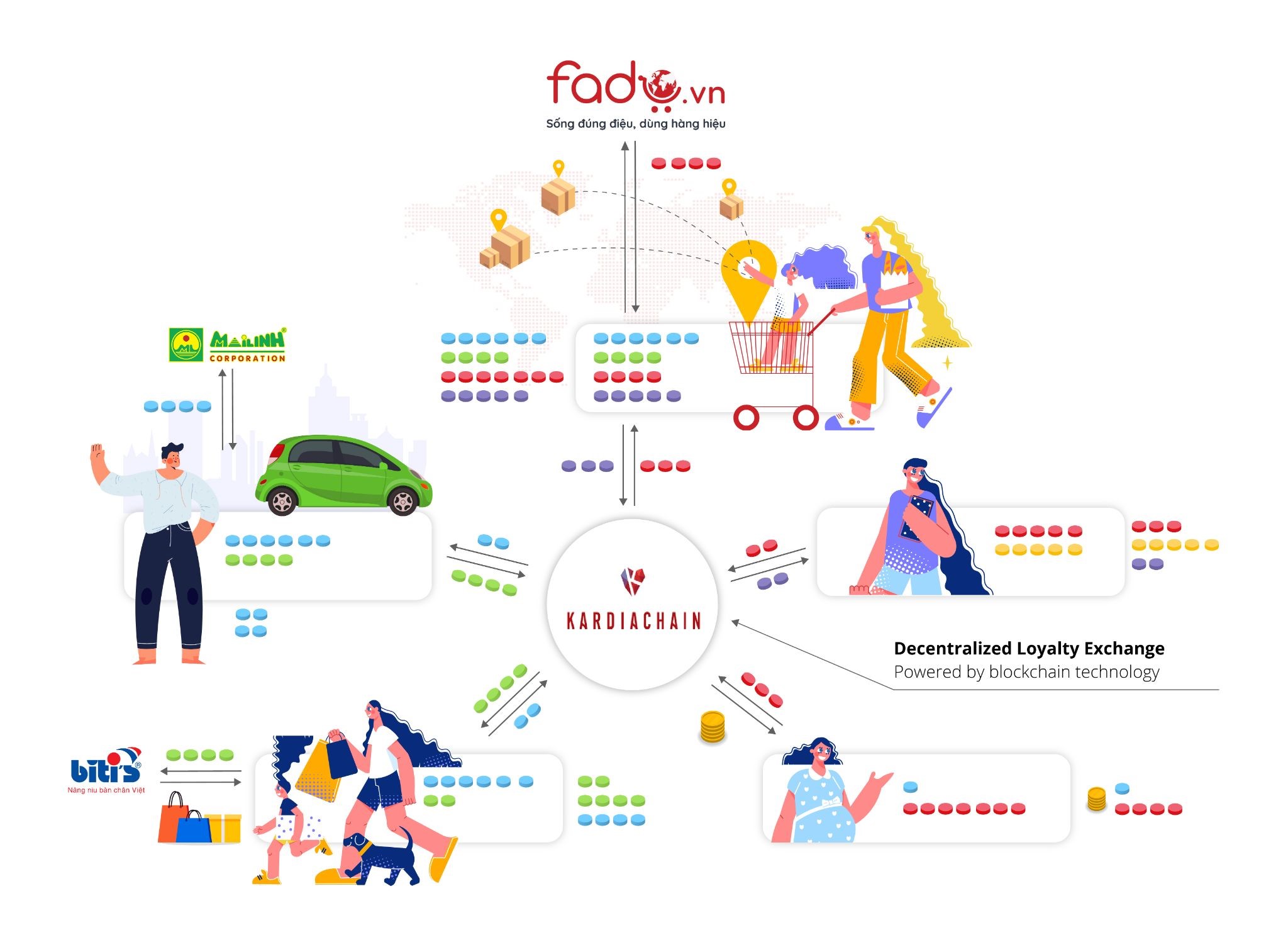 In addition to bringing transparent value in Fado's promotional activities to customers, when applying the reward points system on the blockchain platform, customers receive many great benefits. Customer account will earn additional bonus points when any transaction arises on the FADO platform, which is different from all other traditional points-accumulating systems when only earning points for transactions from the customer's own account. This mechanism is completely automatic and transparent, anyone in the world can access and verify these transactions. (for example: When there is a transaction on the Blockchain platform, the system will produce 2 reward points, one for customers who directly make that transaction, the rest is divided among customers according to the percentage of reward points they hold).
Benefits of using FADO points:

Redeem promotional vouchers at Fado.vn.

Use Fado points to book Grab and many other partners in KardiaChain network such as Mai Linh Taxi, Biti's...

Giving and exchanging Fado points between accounts.

Charitable donations to Fado's community support programs with Fado Points.

Invest in potential projects with Fado Point.

Other benefits: Customers who own these points will have the right to vote on Fado's policies, helping Fado serve customers better.
Not stopping there, FADO will apply blockchain to transparent the functions of order journey lookup, product traceability, affiliate network management, virtual comment and review. Moderation.
With blockchain, e-commerce platforms like FADO have improved loyalty programs, with the aim of better customer services, they will have transparent reward points ownership with a variety of usage choices and an overall experience of FADO's value.
Mr. Dung Nguyen, vice president of Vietnam E-commerce Association said: "Vecom plays a big role in connecting members to cooperate in bringing technology applications into business development to support the community, especially in new fields such as Blockchain and E-commerce. Vecom appreciates the pioneering role of Fado and KardiaChain for bringing Blockchain into practical application to contribute to changing the public perception of Blockchain."
Mr. Huy Nguyen, Co-founder and CTO (Chief Technology Officer) of KardiaChain Company shared: "With the vision of bringing Vietnamese businesses to new technologies such as Blockchain, KardiaChain expects to cooperate with a leading e-commerce platform like FADO, which will be an important step in the process of popularizing Blockchain to users. We believe that this will be a typical model of blockchain technology application for e-commerce companies in particular - which is in desperate need of an optimal solution for a Loyalty program.
About FADO: Founded in 2014, FADO is in the top 5 largest e-commerce platforms in Vietnam (according to Iprice statistics). Fado's unique feature is the Cross-Border E-Commerce platform, which makes it simpler for Vietnamese individuals and businesses to trade directly with the world through e-commerce. FADO makes a difference when helping customers immediately own a device that has just launched abroad to serve learning, research, production labor or simply make Vietnamese life more comfortable and happier. On the other hand, Fado is accompanied with many organizations to help promote and export Vietnamese-branded products directly through e-commerce channels. More information at https://fado.vn.
About KardiaChain: An open blockchain platform with the first multi-chain connectivity in Southeast Asia, helping to improve and digitalize products and services of organizations and businesses. KardiaChain was founded in 2018 with a 100% Vietnamese team, including engineers and experts with many years of experience in different fields around the world, from London to Silicon Valley. With the highest market capitalization reaching 350 million USD, KardiaChain was voted by Yahoo Finance as one of the top trending technology companies in 2021. For more information, please contact the website https://kardiachain.io.
VECOM