On July 29, 2021, the launching ceremony of the Digital Technology & Marketing Branch (DTM) under the Vietnam E-commerce Association and the series of DTM DAY events took place successfully attracting tens of thousands of delegates to follow on the online platform.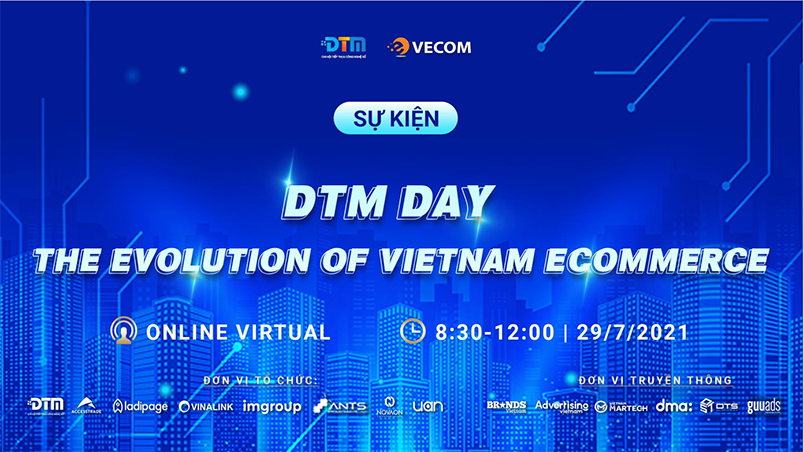 Along with the event is the presence of leading experts in the field of Digital Marketing and Marketing Technology, representatives of some large enterprises in Vietnam:
- Mr. Nguyen Ngoc Dung - Vice Chairman of VECOM
- Mr. Do Huu Hung (Accesstrade) - Head of DTM Branch
- Mr. Dinh Le Dat (ANTS)
- Mr. Nguyen Minh Duc (IM GROUP)
- Ms. Dang Thuy Ha - Director of Nielsen Vietnam
- Mr. Tuan Ha (Vinalink)
- Ms. Nguyen Thi Thuy Hang - CMO LAZADA
- Mr. Tran Nguyen Phi Long (PNJ)
- Mr. Le Viet Hai Son (NOVAON)
- Mr. Doan Quoc Tam (VECOM)
- Mrs. Phan Bich Tam (MMA)
- Mr. Love Nguyen (Ladipage)
- Mr. Bui Quang Tinh Tu (UAN)
The program takes place with 3 independent sessions in 3 different webinthing rooms including:
Session 1 - Launching ceremony of the Branch and exchange of e-commerce overview
Vietnam's e-commerce market is expected to continue to boom in 2021. Opportunities for domestic enterprises to develop new business strategies, access modern and reputable distribution channels. That is the content shared from Speaker Dang Thuy Ha - Director of Nielsen Vietnam on e-commerce market overview, this is also the opening theme of the event.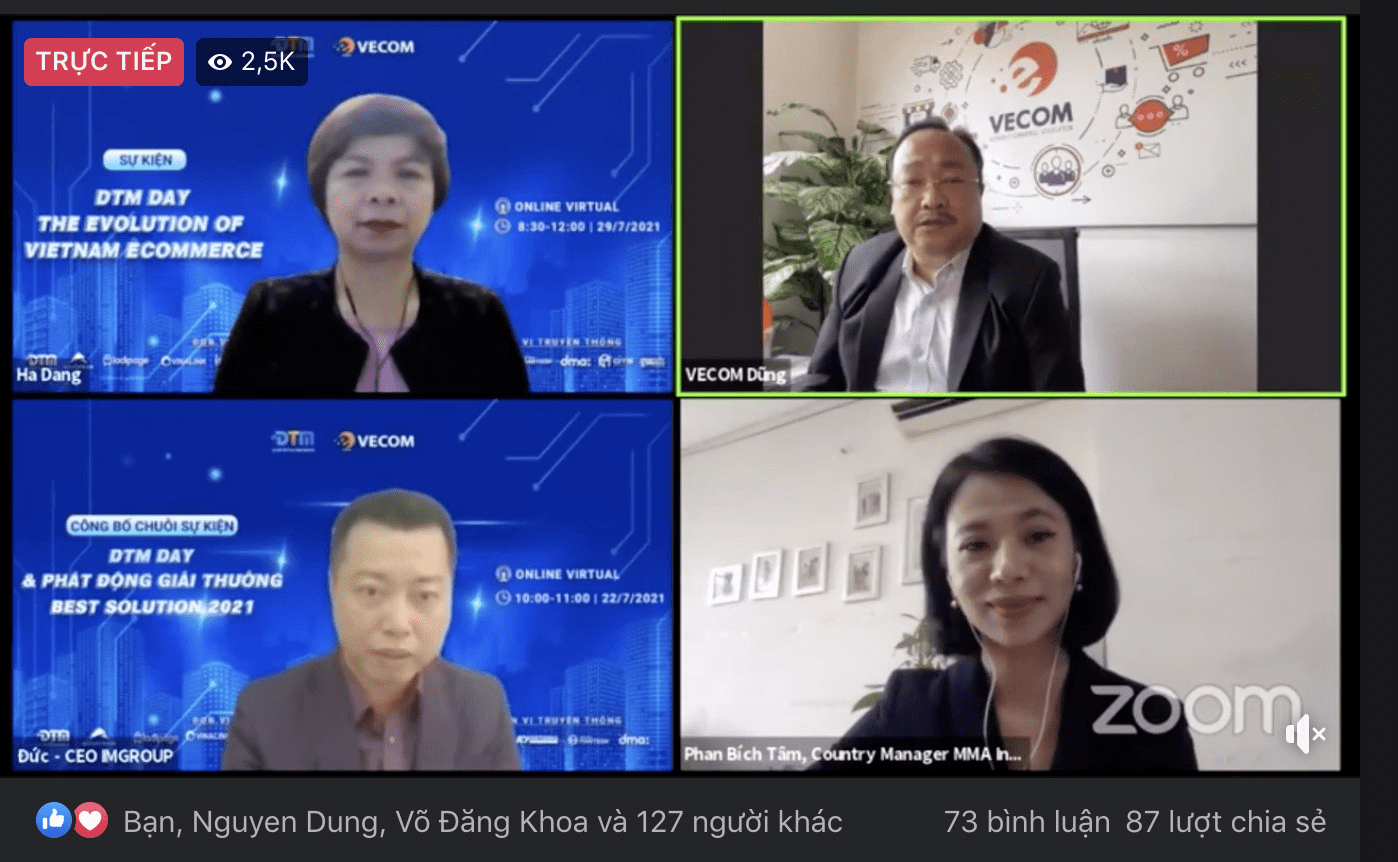 This was followed by the sharing of Speaker Nguyen Minh Duc - CEO of IMGroup on E-Commerce Vietnam Assessment and the latest 10 EC trends. According to the Vietnam E-commerce Index report (EBI). The growth of e-commerce in Vietnam in the last 4 years has been really outstanding. This is a potential land for businesses, online business people and investors who want to exploit this market.
Session 2 - The role of e-commerce floor and emerging marketing trends
Along with the stormy development of the Internet, the trend of online business or online sales has brought economic efficiency to many business lines in Vietnam. Typically, there are business models for small and medium-sized enterprises, business households and individuals on e-commerce floors. Attending the event, Speaker Nguyen Thi Thuy Hang, CMO of Lazada shared about "The rise of e-commerce floors", thereby helping delegates visualize this new trend more authentically.
Next, Speaker Tuan Ha – CEO of Vinalink shared about the topic "marketing trends and issues to pay attention to businesses". The sharing post helps us see that e-commerce is growing faster than the "big" in this field such as Amazon, Alibaba ... can be met and this requires businesses interested in e-commerce to quickly grasp trends to reach customers better and bring higher business efficiency. The future of e-commerce has existed and is still changing day by day.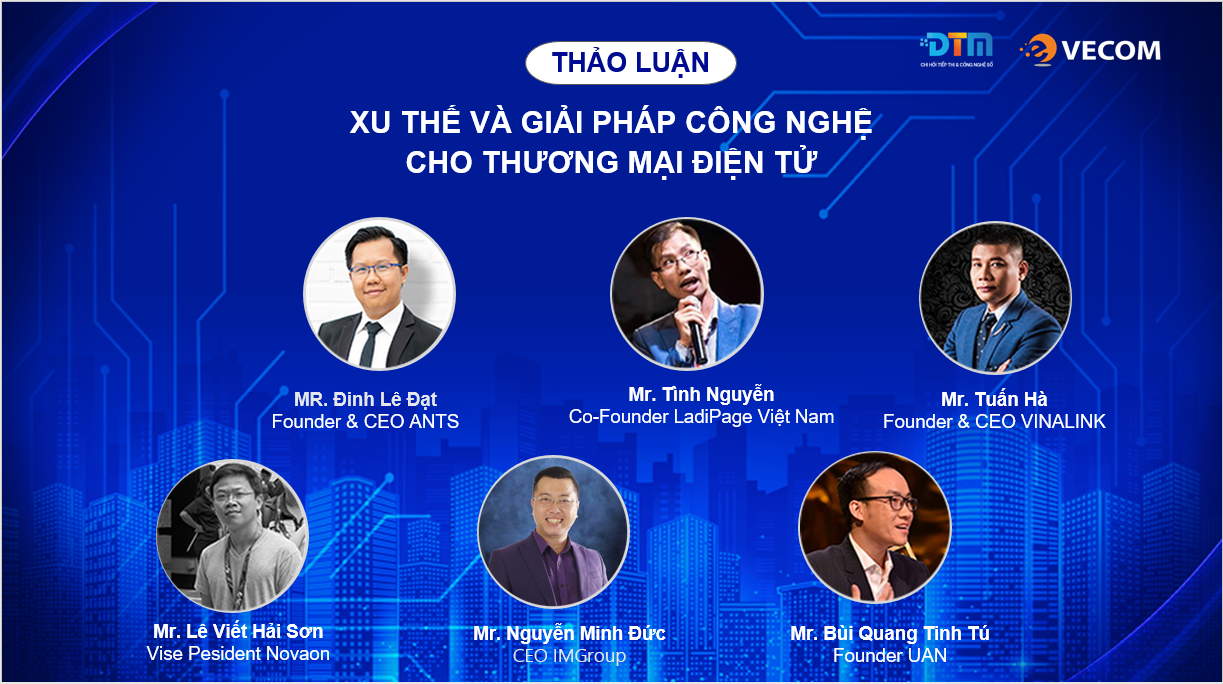 Session 3 - The shift of Digital and development perspectives from global models
Starting his marketing career with e-commerce (Purchasing Group, Lazada) then developing into the retail industry (Nguyen Kim, Pharmacity), Mr. Long Tran is currently the Head of Retail Marketing of PNJ jewellery center system with more than 360 stores. He shared with the theme "Digital / Online Shifting through Covid Storm".
Next, Mr. Do Huu Hung - CEO of ACCESSTRADE - Head of Marketing and Digital Technology Association represented to introduce some outstanding activities of the Association in the coming time and launched the BEST SOLUTION 2021 - TOP 100 GROUP award. At the same time, he also shared with the community outstanding solutions in the Digital marketing industry.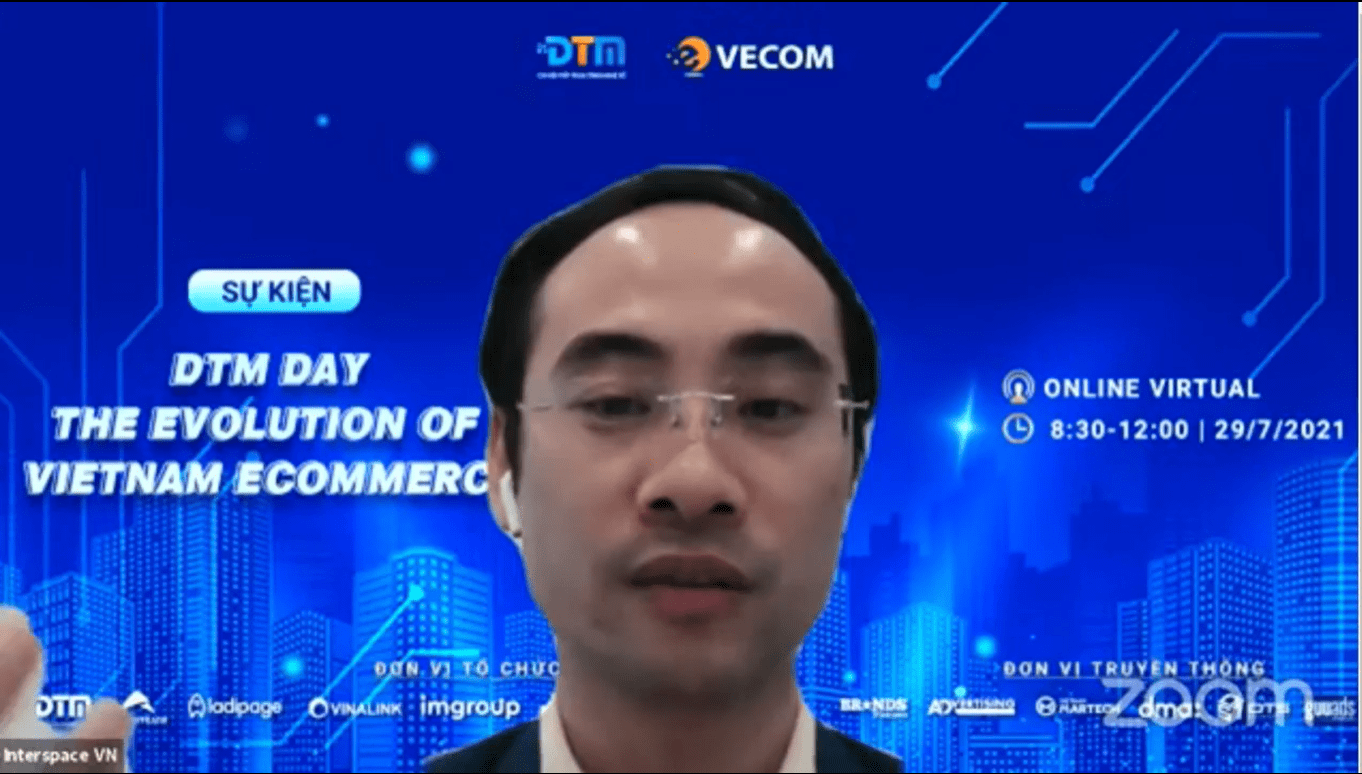 The overall architecture of the painting using Technology in international standard e-commerce enterprises has been shared by Mr. Dinh Le Dat (ANTS).
At the end of the event, there is a general discussion of the program to discuss and answer questions of participants. Participating in the discussion were representatives from leading companies in the field of marketing and digital technology such as Vinalink, ANTS, LadiPage Vietnam, IM Group, Novaon, UAN ... has brought a lot of valuable knowledge to the community.
Information and materials about the event can be consulted on the program's website at: http://dtm.vecom.vn/ or access to follow the videos on the official Fanpage of the Vietnam E-commerce Association: https://www.facebook.com/www.vecom.vn.
VECOM.