In addition to 2 seashell floors, Postmart of postal enterprises, there are now many other e-commerce platforms such as Lazada, Sendo, Cuccu.vn to support farmers in Hai Duong and Bac Giang to consume lychee close to the harvest itself.
In the context of the complicated Covid-19 epidemic, local authorities in Hai Duong and Bac Giang provinces are actively implementing many solutions to both ensure the fight against the epidemic, but still promote production, especially the consumption of lychee – specialties of local farmers.
Also due to the effects of the epidemic, lychee export activities face certain difficulties, consumption channels through digital platforms, e-commerce products are being more interested in bac Giang and Hai Duong provinces.
In fact, recently, there have been many e-commerce platforms participating in supporting farmers in these two provinces to consume lychee.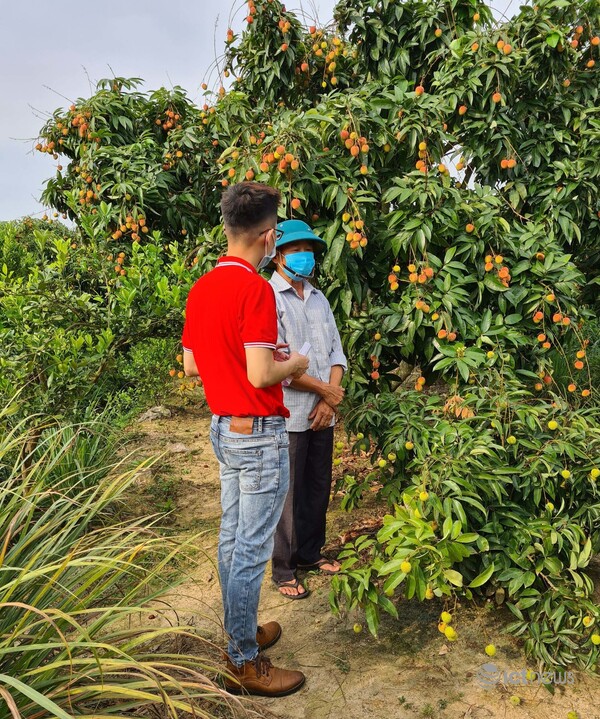 Sendo's staff went directly to Hai Duong fabric planting area to survey.
Sendo is also expected to launch Bac Giang lychee on the floor from June 6th and end the batch on June 10, with the goal of consuming 20 tons of lychee to consumers in Hanoi and Ho Chi Minh City. After the signing ceremony between suppliers and manufacturers in Hai Duong with 4 e-commerce floors including Postmart, Seashell, Sendo and Lazada, on May 18, Sendo's representative said that this e-commerce platform started selling Hai Duong fabric on May 24 and on the first day sold 5.5 tons. The consumption of Thanh Ha lychee (Hai Duong) ended on May 31, with a total consumption through Sendo floor of 22 tons.
Also a signatories to bring Thanh Ha and Hai Duong lychee to consumption on the floor, representative of Lazada Vietnam said that on May 14, the first day of sale, after only 4 hours, the booth of Hai Duong province on this e-commerce floor sold nearly half a ton of white egg cloth.
All of these fabrics are applied by Lazada Vietnam in the form of fast delivery in 4 hours to consumers to ensure maximum freshness and characteristic taste, especially the fastest delivery time of an order is 53 minutes.
The Seashell and Postmart floors of Viettel Post and Vietnam Post enterprises in the first months of this year have had many activities to support farmers in localities across the country to get acquainted with the new business method, contributing to Vietnamese agricultural products escaping price-squeezing injuries.
Specifically, from May 20th to May 30th, Seashell flooring has supported 121 farmers to open booths. The total number of orders for Thanh Ha lychee through Seashell floor is more than 2,000 orders, equivalent to nearly 6 tons of fabric.
With Vietnam Post, this business aims to have about 70 tons of Thanh Ha lychee sold through Postmart flooring this year.
In parallel with the consumption of Thanh Ha lychee of Hai Duong, in recent days, Shell and Postmart are promoting activities to support Bac Giang farmers to access digital technology, gradually getting used to the new way of doing business – through e-commerce floors.
Statistics of Viettel Post show that since the date of putting Bac Giang lychee on the floor - May 28th until may 30th, there have been 400 orders for fabrics through the floor, with a total output of more than 2 tons. Along with that, viettel Post Bac Giang branch team has guided and trained farmers, there have been 45 cooperatives and farmers in Bac Giang registered to open booths to sell products on Shells themselves.
Lychee consumption chart on e-commerce floors in Vietnam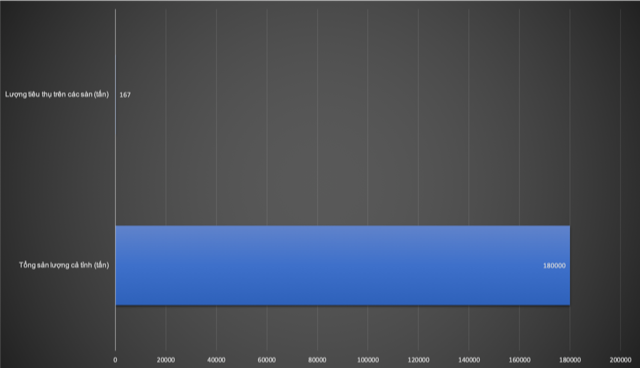 Lychee output chart of floors sold compared to the total output of Bac Giang (unit: tons)
Chart caption:
| | | | | |
| --- | --- | --- | --- | --- |
| E-commerce floor | Voso.vn (Thanh Ha+Bac Giang) | Postmart.vn (Bac Giang) | Cuccu.vn (Bac Giang) | Sendo (Thanh Ha) |
| Total fabric consumption (tons) | 8 | 150 | 15 | 15.5 |
| Total provincial output (canopy) | 180000 | | | |
| Consumption on floors (tons) | 167 | | | |
In addition, since May 30, Cuccu.vn's cooperative sales platform has participated in the volunteer campaign "Online companion - selling Bac Giang fabric" organized by the National Volunteer Center of the Central Delegation in collaboration with the National Economics University. Launching Luc Ngan lychee, Bac Giang earlier, starting from May 19th. By the end of May 30, the total number of booths opened by Bac Giang farmers on Postmart floor had reached 608; the total number of orders amounted to over 30,000 orders with the total lychee output consumed by Postmart exceeding 150 tons.
According to statistics, after 1 day for placing on the Cuccu app, by the afternoon of May 31, there were 2,000 orders, equivalent to 15 tons ordered. The goal of this platform is to sell 100 tons of Bac Giang fabric in 2 regions: Hanoi and Ho Chi Minh City. Hcm.
Obviously, the Covid-19 epidemic has been contributing to accelerating the digital transformation of agricultural and rural areas. Farmers in localities hit hard by epidemics such as Hai Duong and Bac Giang are gradually adapting and getting acquainted with digital technologies to transform production and business methods and models.
According to ICTnews
VECOM.