Vietnam Online Business Forum (VOBF) is an annual event that brings together the e-commerce community. After 6 years of organization, the forum has created a wide spread, becoming a valuable destination and many opportunities to meet, exchange, learn and update information, giving an overview of the industry. E-commerce in Vietnam.
The Vietnam E-commerce Association (VECOM) organizes the Annual Event: Vietnam Online Business Forum 2023 (VOBF 2023) with the theme "Smart-Ecommerce" in Hanoi on April 18th/ 2023 and in Ho Chi Minh City on April 20, 2023 with more than 2,000 individuals and businesses operating in the field of e-commerce in Vietnam and internationally.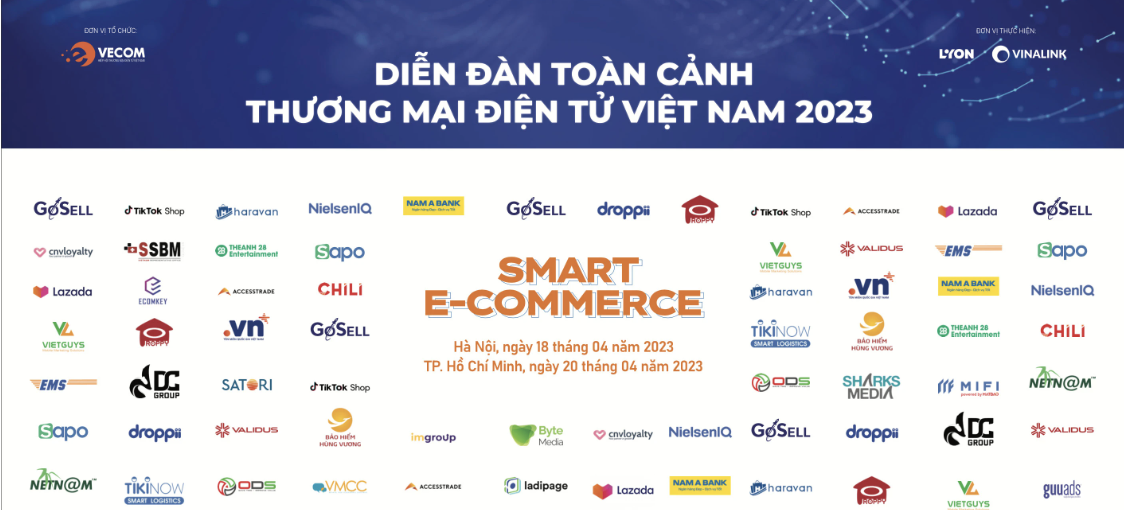 After 6 years of organization, this year's forum has the companionship of more than 50 businesses/sponsors in the field of e-commerce in Vietnam. This is also an annual event and is the focus of attention of the E-commerce community every year. After each year, VOBF creates a large and wide spread in the community. The 2023 Forum has more than 2,000 attendees, 50 experts and 1,000 small and large enterprises attending the forum, and more than 30 sponsors for this year's forum.

In 2023, with the theme "Smart E-Commerce" in which Smart Tech and Smart Solutions are the two most important aspects were mentioned.
Set in the context of the post-epidemic economy and affected by the wave of the world economic crisis, the e-commerce industry has been and is one of the industries with the most rapid and drastic changes to adapt. adapted to the new situation in Vietnam. Exploiting the "smart" perspective in e-commerce, the forum focuses deeply on current and future e-commerce trends, business models, and solutions for e-commerce in the world. next time. Besides, some hot topics that are receiving a lot of attention will also be discussed and analyzed by speakers and experts at the forum, such as:

- Market research on smart consumer behavior when shopping and prudent spending - presented by Nielsen Vietnam
- Unleash the potential of E-Commerce with technology - presenting Lazada Vietnam
- Market overview and outstanding trends 2023 - presented by DTM
- Explore Advanced Conversational Trade with Meta - presented by Meta
- New distribution model and effective method of using KOC/KOL - presented by Droppii
- Smart strategies for growth through real stories - presented by TikTok Shop
- The Power of Connectivity in Headless Technology & Open API - presented by SAPO
- AI applied in e-commerce - Streamlined and effective - presented by Haravan
At this year's forum, VOBF 2023 also held a Networking session right after the end of Session 3 with the presence of many experts as well as opportunities for businesses to exchange information directly. Vietnam E-Commerce Overview Forum 2023 has the companionship of more than 30 sponsors / leading enterprises in the industry

VOBF was held on a large scale with many attractive contents in this year's forum, which has accompanied more than 30 sponsors, not only in the field of e-commerce. The event accompanied by the main and only sponsor is Gosell - a provider of multi-channel synchronous sales support solutions from physical stores, e-commerce platforms, websites, sales apps to online platforms. society.

Two famous brands: Droppii - an e-commerce platform for dropshipping consulting and business products and Nam A Bank accompanying the event as a Diamond Sponsor, bringing owners Hot topics and services, valuable incentives for ticket buyers to attend the event. In particular, Nam A Bank implements a ticket refund support program for customers who buy General and Diamond tickets when meeting the program's criteria.

This year's VOBF 2023 companion sponsor unit includes Sapo, NielsenIQ, EMS and Vietnam National Domain Name (.vn). As a companion sponsor, the units will directly share the values related to the smart market, build a technology platform to support the retail sector, and optimal solutions to promote development enterprise. The forum also received the companionship of 04 Gold sponsors including TikTok Shop, Lazada Vietnam e-commerce platform, ProppyApp and Haravan. At the event in Hanoi, UOB Bank Vietnam accompanied VOBF 2023 as a Silver sponsor.

In addition, this year's forum also received the companionship of many large and small businesses with many other supports such as: TikiNOW, NetNam, Hung Vuong Insurance, CNV Loyalty, VietGuys, Vadilus, ACCESSTRADE, ... Contributing an important and indispensable part to the success of the Forum, VOBF 2023 also received support from Media Partners (Alpha Beta Vietnam Co., Ltd. (GUUADS); Vietnam Marketing Communications Club. (VMCC); DC GROUP CO., LTD; Byte Media Joint Stock Company; Ecomkey Joint Stock Company; THEANH28 ENTERTAINMENT; donation support units (MIFI Joint Stock Company; Geneva University of Business and Management (SSBM); SATORI International Joint Stock Company (SATORI) and technology support units (Joint-Stock Company). CHILI; Ladipage Vietnam Technology Joint Stock Company; IMgroup Investment and Development Joint Stock Company; ODS Joint Stock Company; SHARKS Media Joint Stock Company)

For more information about the event, please visit vobf.vecom.vn or email directly to: event@vecom.vn for support.