On March 12, 2019, Vietnam E-Commerce Association (VECOM) held a press conference to announce the Vietnam Online Business Forum 2019. This is an annual event organized by VECOM that has received high attention from the online business community. In 2019 VECOM will coordinate with the Vietnam E-Commerce and Digital Economy (iDEA) to organize this Forum in Hanoi (March 26, 2019), Ho Chi Minh City. Ho Chi Minh (March 28, 2019) and Da Nang (March 15, 2019).
VOBF2019 - Break the Bound is an opportunity for agencies, organizations, businesses, and individuals to discuss opportunities and challenges of the field of e-commerce and digital economy. In the consecutive year, our country's e-commerce achieved a high growth rate. Especially, 2018 is considered the most exciting year of online business with a growth rate of over 30%. With a low starting point of about 4 billion USD in 2015 but thanks to the average growth rate for three consecutive years, the e-commerce market size in 2018 is about 7.8 billion USD. If the growth rate of 2019 and 2020 continues to be at 30%, by 2020 the market size will reach 13 billion USD. This scale will be higher than the target stated in the e-commerce development master plan for the period of 2016-2020, according to this objective, the scale of retail e-commerce (B2C) will reach 10 billion USD by 2020.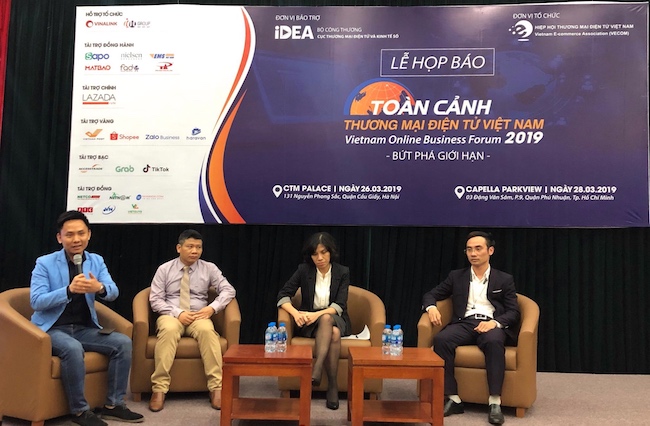 VOBF forum 2019 is an opportunity to discuss the creation of this environment and ecosystem. The forum will consist of four major topics. The first topic with the title "Online shopping boom" will discuss e-commerce market trends that will expand strongly. The second topic "Time is Gold" discusses solutions and services to support e-commerce in the era of many consumers who want to receive products ordered online in time. The third theme "The rise of AI" is an opportunity to talk about the impact of technology on every business, including artificial intelligence. The fourth theme "Capital or Ideas" will help online entrepreneurs start to determine what is the deciding factor in a risky game adventure but also full of opportunities to become new Uninorns. of Vietnam.
E-Business Index (EBI) 2019 will be announced in this forum. After eight consecutive years, EBI has become a reliable source of information reflecting the current situation, outstanding issues and the development trend of e-commerce both nationally and locally, contributing to the construction. policy, law, state management, and business operations. Based on EBI 2019, VECOM has proposed the implementation of the Program for Sustainable E-Commerce Development in the period of 2019 - 2025. The first phase of this Program implemented in 2019-2020 will mobilize resources to support a number of industries in successful localities such as coconut products in Ben Tre, bamboo products in Thanh Hoa and Nghe An.
Information of the Event Click Here
VECOM.