This June, the super event to celebrate ACCESSTRADE turning 6 years old will officially take place. Along with that is a series of attractive activities with a total prize worth more than VND 200 million.
Beyond the framework of a commemorative program, the event will bring you many valuable values such as:
·Listen to KOL shares about the experience of selling millions of invoices, improving revenue markedly with Social Commerce trends.
·Being one of the first to know about ACCESSTRADE's new ecosystem with projects couldn't be more exciting.
·Join the minigame series arranged throughout the program with extremely attractive rewards
Especially, at this event, ACCESSTRADE will launch the minigame program held on the app for the first time with equally heavy prizes.
At the same time, in accordance with the spirit of "Sharing Happiness", for each heart drop on the livestream, ACCESSTRADE will deduct VND 500 from the Covid Vaccine fund. Therefore, remember to release your heart a lot on the day of the event so that we can bring practical value to the community together.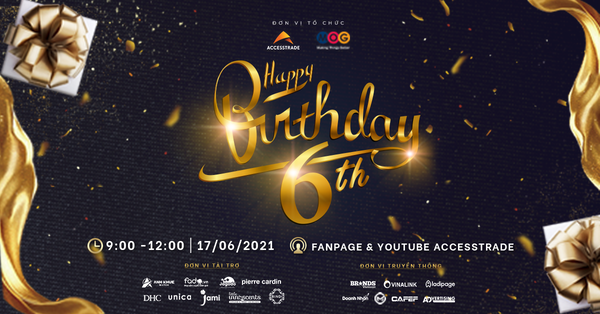 Watch the birthday program with countless attractive gifts:
·Virtual event "Happy birthday 6th - Sharing Happiness"
·View event details: https://bit.ly/3yJpIyv
·Time: 9h00 on 17/06/2021
·Organizer: ACCESSTRADE Vietnam
·Sponsor: Anh Khue Watch, FADO. VN, Jagodo, UNICA, Pierre Cardin, OSCAR, DHC, Janami, Little Innoscents, Bindi Vietnam, MOI Cosmetics
·Media support units: VECOM, VIA Vietnam Internet Association, BrandsVietnam, Advertising Vietnam, Vietnam MarTech, VINALINK, UAN, LadiPage.
VECOM.