Recognizing the attention of Vietnam market to the cross-border e-commerce trend, Vietnam E-commerce Association (VECOM) has cooperated with Amazon Global Selling to organize a formal event on selling on Amazon, namely "Selling Globally on Amazon". The event will be held in two biggest e-commerce cities, Hanoi on Sep 25th, 2018 and HCMC on Sep 27th, 2018.
This is the first time VECOM organizing an event focusing solely on selling globally using Amazon, with a tentative participation of over 2000 people in total Vietnam. All four topics in the event are designed specifically to support sellers in Vietnam: "Potentials and Opportunities for Brand Development in Cross-border E-commerce", "Solving Challenges in Cross-border E-commerce", "Steps for Selling on Amazon", and lastly "How to build a lasting brand name on Amazon".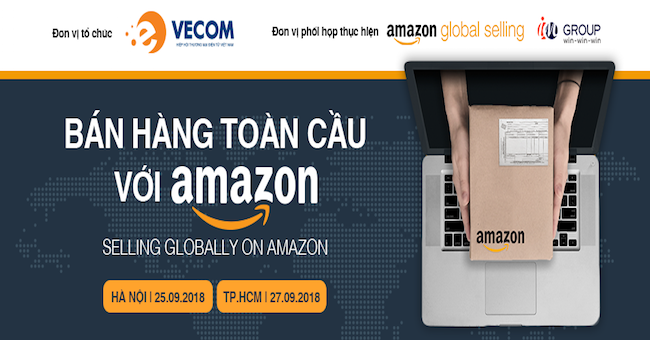 This event is a very special opportunity for whom is selling cross-border, from individuals to enterprises, brand owners, retailers and manufacturers. Anyone who cares about selling globally on Amazon will have the chance to hear directly from the representatives of Amazon Global Selling about strategies for success on Amazon. Participators will also learn from real-life experiences of individuals, business owners who successfully sold on Amazon from Vietnam.
According to Mr. Park Joonmo, Head of Amazon Global Selling South East Asia and South Korea, "We see that there are more and more sellers from Vietnam, including manufacturers, business owners, entrepreneurs, etc. They are selling globally using our platform to reach millions of potential customers in the world through the Internet. We hold this event with VECOM to further support local brands and SMEs to broaden their business scope on Amazon and help them build a global brand".
In Vietnam Online Business Forum 2018 (VOBF) which was held on March 2018, the growth rate of online business in Vietnam was reported at 35% annually and will continue to rise. VECOM believes that Amazon, a well-known name and a trustworthy selling platform globally, will become a promising selling channel for Vietnam businesses to expand to.
Amazon Global Selling (AGS) has 13 online markets in the world, helping enterprises to sell globally no matter of where they establish. Through global selling, sellers in Vietnam can approach more than 300 million individual customers and 1 million business customers of Amazon worldwide. AGS has the leading logistic system and complete exportation solutions to fully support sellers with 149 centers worldwide that can provide products for customers in 185 countries and regions.
Beside AGS, the event also welcomes the participation of and support from renown names in E-commerce: FBA Amazon Vietnam, DHL, FDA, HAWA, BSSC, BoxMe, Haravan, IM Group, Fado.vn, etc.
EVENT INFORMATION:
* In Hanoi:
– Time: 8am – 5pm | September 25th, 2018
– Venue: CTM Palace, 131 Nguyen Phong Sac, Cau Giay dist.
* In HCMC:
– Time: 8am – 5pm | September 27th, 2018
– Venue: Capella Parkview – 3 Dang Van Sam, Ward 9, Phu Nhuan dist.
– Official Event Websit: http://amz.vecom.vn/
Vietnam E-commerce Association welcomes all organizations, enterprises and communication partners to participate and promote for the event "Selling Globally on Amazon". We hope the Event will help promote cross-border e-commerce in Vietnam and help Vietnam products gradually take the lead in the market.
VECOM