Based on the awareness of The Vietnam Logistics Business Association (VLA) and Vietnam E-commerce Association (VECOM) about the importance of cooperation between the two associations to promote the development of e-commerce and e-logistics contributes to improving the competitiveness of the e-commerce industry in particular and the economy of Vietnam. generally, directly serving the interests of members of the two Associations;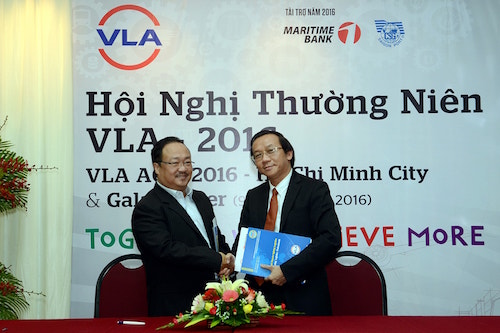 Mr. Nguyen Ngoc Dung – Vice Chairman of VECOM and Mr. Do Xuan Quang – Vice Chairman of VLA at the signing ceremony of cooperation agreement
On December 9, 2016, in Ho Chi Minh City, vietnam Logistics Business Association and Vietnam E-commerce Association agreed to sign a cooperation agreement with the following contents:
Guiding and supporting member enterprises to comply with the provisions of law on e-commerce and e-logistics as well as other related fields;

Create a win-win cooperation framework and aim to serve the common interests of e-commerce for the benefit of consumers of logistics services. Thereby strengthening the cohesion between logistics enterprises in the country and e-commerce enterprises.

In order to develop e-commerce and logistics services throughout the country to meet the requirements of development, management, business, international integration under the general policy and orientation; at the same time, in order to increase efficiency, reduce costs and improve the quality of e-commerce and logistics services, contributing to improving the competitiveness of the logistics industry in general.

On the basis of promoting cooperation between VLA and VECOM members in the field of e-commerce and logistics.
According to the Vietnam E-Commerce Index Report, delivery and order completion services in Vietnam have not kept up with the strong development trend of e-commerce. The trend of online retail is towards high specialization. Sellers focus their resources on activities that lead buyers to enter into contracts online. Services related to contracting or fulfilling orders such as warehousing, packaging, delivery, payment, receiving returns ... can be outsourced. Through the cooperation agreement between the two Associations will open new opportunities between online retailers and service providers to complete orders that will have great significance for the development of e-commerce in the world as well as in Vietnam in the coming years.
Download full text of cooperation agreement: here
VECOM