It is a program to bring together prestigious groups, aiming to improve the quality of cyber information in Vietnam. The event "Honoring the Top 100 typical communities on Vietnam Social Network" was organized and implemented by Vinalink Media by the Vietnam E-Commerce Association - DTM Branch.
The explosive development of the Internet in general and social networks in particular has brought benefits to the community.
However, this has also caused a lot of difficult phenomena to control content on social networks. From there, leading to many streams of false information, content that ignores ethical standards, standards,... It has a negative impact on the online community. Therefore, DTM - Vietnam E-Commerce Association has decided to organize the program "Honoring the Top 100 typical communities on social networks" to be able to connect groups, statistics, evaluate and select community groups that have been contributing, Share many useful values. Thereby, the community can easily choose to read information from reliable sources.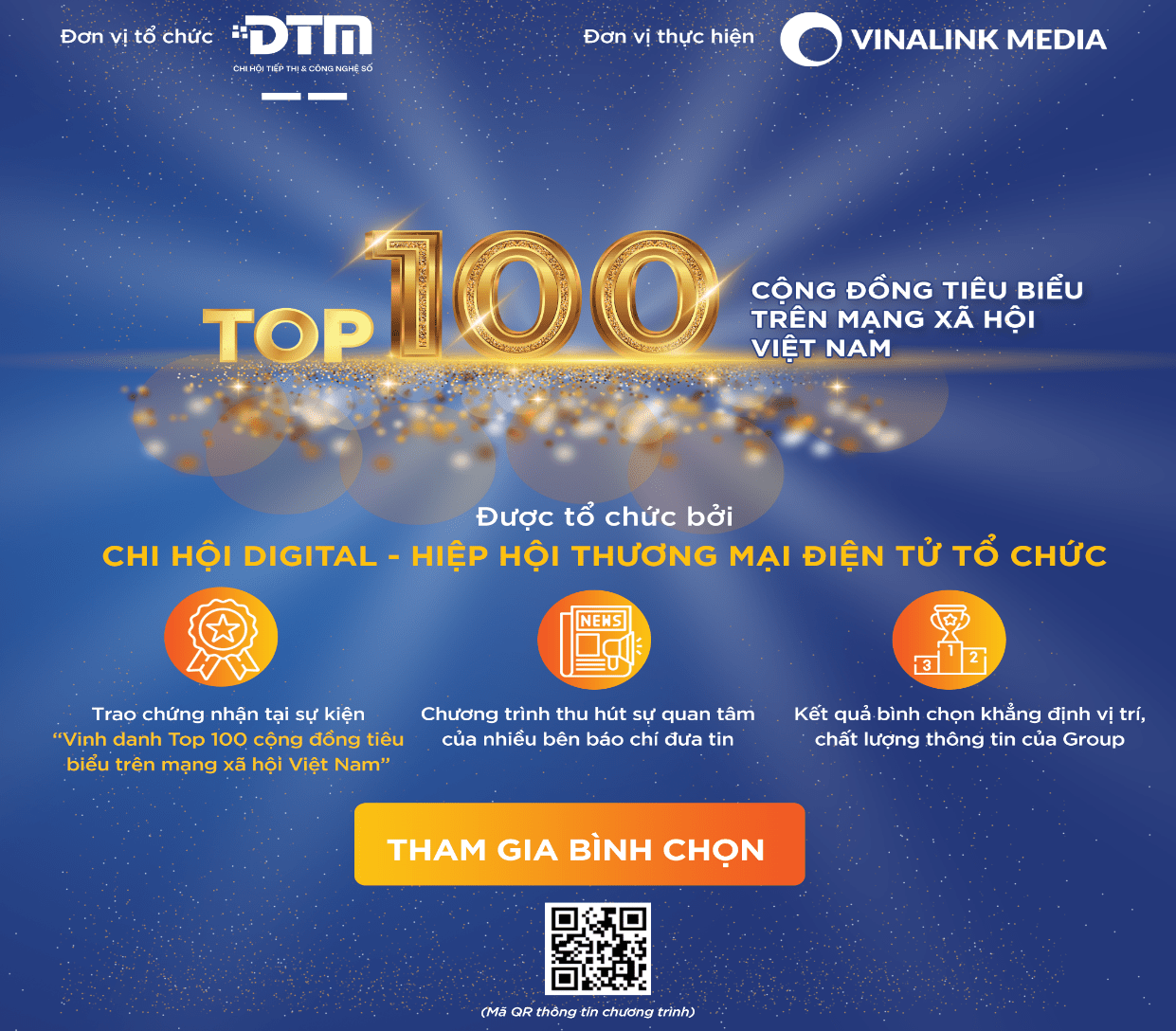 The objective of the event:
- Create a fair, healthy playground for groups
- Honoring groups that are making positive contributions to the online community
- Introducing quality communities to a large number of Vietnamese Internet users
- Spread a strong message about responsibility in building and creating content Watch livestream launch event of VECOM Here
The rights of groups when participating in the event:
- Receiving certificates and honors from the Organizing Committee
Promoted by hundreds of media and newspapers
- The voting results confirm the position and prestige of the Group.
Composition of the jury:
Mr. Do Huu Hung - Chairman of Vecom's Digital Marketing Association
Mr. Vu Duc Tam - Permanent Member of Vietnam E-commerce Association
Mr. Tran Van Trong - Chief of Office of Vietnam E-Commerce Association
Mr. Love Nguyen - Co-Founder Ladipage Vietnam
Mr. Tuan Ha - Permanent Member of Vietnam E-commerce Association CEO Vinalink Media
In addition, there are 10 founders of the largest groups in Vietnam who will directly participate in the evaluation process.
Evaluation criteria:
- Membership criteria:
+ Number of members : Evaluation parameters of group size
+ Increase in registered members: Group's speed and development potential
- Criteria for content:
+ Usefulness of content
+ The number of content updated daily
+ The amount of interaction per article
The role and interests of event sponsors:
- Benefits:
+ Appeared sponsor logo on the backdrop of the honor ceremony
+ Use the image of the association's invitation letter for sponsorship for communication.
- Role:
+ Post information about the Top 100 typical communities on social networks to owned media channels.
------
Event registration link: bit.ly/top100group
Expected time: December 2021
For more details about the event, please contact us in one of the following ways:
Email: top100group@vinalink.vn
Hotline: 024.3972.6746 - 0934542836