Vietnam Blockchain Summit (VBS) 2018 with the main topic "From Technology to Policy" was officially held in Hanoi on June, 8th 2018 under the cooperation of Vietnam eCommerce and Digital Economy Agency (IDEA) and Vietnam E-commerce Association (VECOM).
The Summit drew an enormous attention with the participation of over 500 guests and was known by thousand of other people who have interest in online business environment. VBS was considered one of the biggest and most concentrated event in terms of making policies, research, development, training and future application in regard with blockchain technology.
The Summit started with a presentation by Mr. Nguyen Thanh Hung - The President of Vietnam E-commerce Association and Mr. Do Van Long - Strategic Director of Infinity Blockchain Labs. In this beginning session, the two moderators actively interacted with audiences in responding to questions and illustration in order to clarify the nature of blockchain and its various utilization; as well as to make comparison between its roles in digital business era based on TCP/IP technology and the Internet and the meaning of relevant policies.
In the 2nd session with the topic "Blockchain application in some business sectors" with the moderation of representatives from Infinity Blockchain Labs, Vietnam Post, Vietnam Logistics Association, My Xuong Mango Cooperative, Hochiminh High-Technology Association, TraceVerified and Post & Telecommunication Insurance Corporation, the discussion focused on 3 main points:
- Advantages/Disadvantages to apply blockchain in logistics industry
- Advantages/Disadvantages to apply blockchain in tracking agricultural products' origin
- Sharing typical cases of applying blockchain in some particular sectors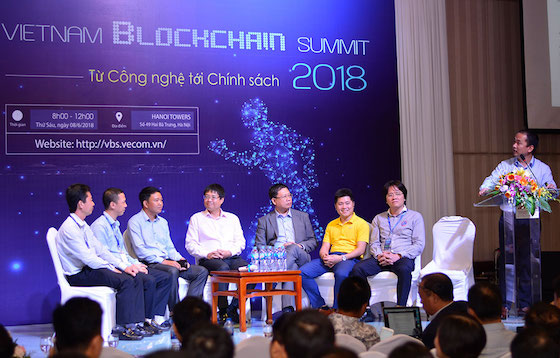 The last 3rd session was about "Policies for developing research and application of blockchain". This session was conducted by delegates from government agencies (Vietnam E-commerce and Information Technology Agency; National Electronic Authentication Center - Ministry of Information and Communication); institutions (Hochiminh University of Technology, Directorate for Standards, Metrology and Quality - Ministry of Science and Technology) and enterprises which develop and apply blockchain-based solutions.
The 3rd session focused on:
- Factors, basis technologies of Industrial Revolution 4.0, in which can be captured and applied in Vietnam
- Whether a trend that Vietnamese technological start-ups, especially blockchain-based companies in foreign countries? Any solutions to support blockchain start-ups?
- Government' roles in successfully deploy blockchain in a couple of specific industries such as logistics, agricultural products' origin tracking etc.
- Huge potential of blockchain in e-government establishment, enhancing e-public services
Besides, Vietnam Blockchain Association (so-called as VietBlockchain) under direction of Vietnam E-commerce Association was announced to go into operation. The goals of this Association are:
- To give consultation, argument on policies and regulations in order to build a facilitating macro environment for blockchain study, development and application in business sectors, especially in online business
- To host or co-operate with members, organizations, presses, media to deploy propaganda programs about blockchain benefits
- To cooperate with members and institutions to offer training courses to build high-quality workforce that meets regional and global' qualifications for blockchain research, development and application
- To propose, advise and support research projects, blockchain applications in some sectors which are expected to have big impacts on socio-economy
- To support the youth/students to start-up in blockchain and related sectors
- Other activities that are relevant with blockchain development and the Association' direction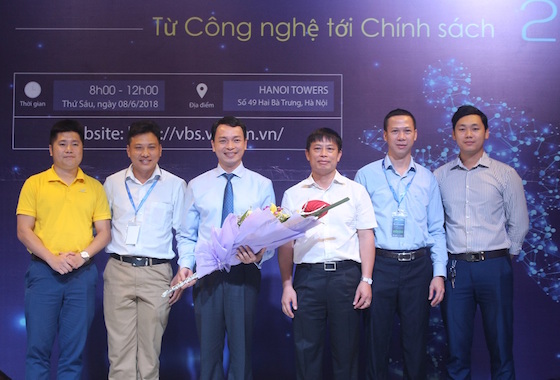 Mr. Dang Hoang Hai - Head of Department of Vietnam eCommerce and Digital Economy Agency congratulated the Blockchain Vietnam Branch
VBS 2018 would be followed by a chain of specific orientation by VECOM and other organizations, in the aim of increasing the usage and contribution of blockchain to the domestic economy.
The Organization Board of VBS 2018 would like to give special thanks to the participation of all delegates, the support from close members namely Vietnam Post (VnPost), Infinity Blockchain Labs (IBL), Post and Communication Insurance Corporation (PTI), NetNam Corporation for cooperation in holding this event.
VECOM