The Covid pandemic is still a prominent issue, affecting the global economy since 2020, but it is because of the outbreak that Vietnam has risen to show the spirit of overcoming difficulties, crossing with many successes, especially the e-commerce boom.
E-commerce or digital transformation are becoming two prominent phrases in Vietnam, searched so much on the Internet, that they have an almost balanced, "very rare" synchronization – according to the Vietnam E-commerce Association (VECOM).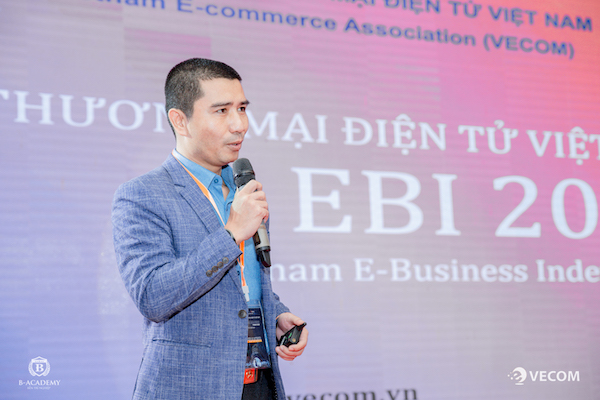 Mr. Nguyen Binh Minh - Member of VECOM Executive Committee announced the EBI Report 2021
Vietnam e-commerce is recorded to have a high growth rate, up to 15% in 2020, reaching a scale of 13.2 billion USD, which is recognized by the world as the most impressive number, the highest in Southeast Asia, and also among the countries with the highest level of e-commerce development in the world.
Considered as an effective tool to overcome the crisis effects of the epidemic, as many Vietnamese businesses take advantage of opportunities, successfully adapt to online business to overcome difficulties and uncertainty with growth of hundreds of percent.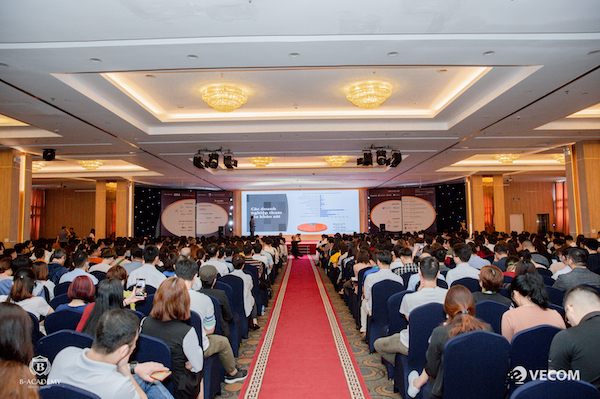 This is as well as the initial successes in the Government's digital transformation as consumers, especially young people, become familiar with online shopping, and Vietnam is now flooded with Internet-connected smart devices.
For Vietnam, this epidemic can be seen as an opportunity to drive a stronger digital transformation program as localities begin to pay more attention to this.
According to VECOM's 2020 National E-commerce Index report, Ho Chi Minh City continues to lead the nation, followed by Hanoi and provinces such as Da Nang, Binh Duong and Dong Nai.
It is easy to see that the gap between the top and last provinces such as Tra Vinh, Hau Giang, Lang Son, Tuyen Quang and Bac Kan is very large in the report, but after 6 years since 2016, when the pandemic broke out, this year's index has changed when that gap began to narrow.
The e-commerce index report was conducted by VECOM over the past 9 years with the main research groups on e-commerce infrastructure and human resources, the development of B2B (business-to-business) and B2C (business-to-consumer) transactions in e-commerce and government-related transactions.
This year, there are 5000 enterprises surveyed, 90% of which are state-owned enterprises, the rest are state-owned enterprises and foreign-invested enterprises. Focusing primarily on two main areas: wholesale and retail.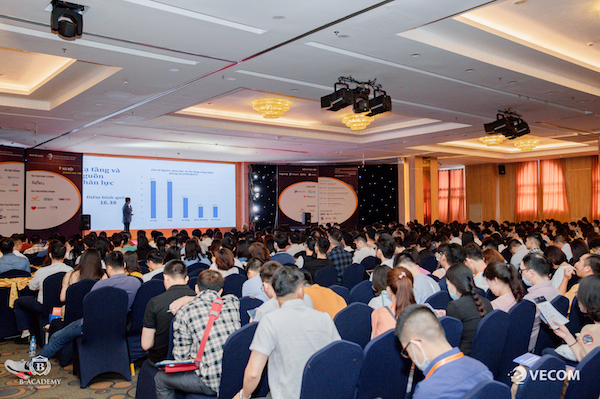 Accordingly, Hanoi and Ho Chi Minh City are far behind human resources and infrastructure compared to localities, even in the third-ranked locality of Da Nang, which has twice the average index (average score is 16.38). The next two provinces, Binh Duong and Hai Phong, are not too far behind this index.
This represents a relative correlation between the remaining provinces of Vietnam, and the next breakthrough is required – a review from VECOM representatives when sharing about the 2020 report.
For B2C transactions, Hanoi is considered nearly 10 times stronger than the average score, while Ho Chi Minh City is up to 12 times the average.
Da Nang continues to be in 3rd place despite being above the average of more than 1 point, Binh Duong and Dong Nai continue to remain in the top 5 provinces
For B2B, the average score is 6.8 points, Ho Chi Minh City and Hanoi still lead the country and the top 5 provinces also have Binh Duong, Da Nang and Hai Phong.
It can be clearly seen through this scoreboard Hai Phong is becoming a very good e-commerce development province.
E-commerce is believed to be a tool to help localities overcome difficulties very quickly, especially those related to the field of agriculture. When we think this is a difficult field but according to VECOM experts, e-commerce can fully support a lot of lessons about agricultural sales.
The most important thing is how to maintain the persistent strength to develop digital transformation and to improve the EBI index of the province, it is necessary to coordinate with the Departments of Industry and Trade with other units in the business and other departments to promote e-commerce to develop better.
VECOM