Vietnam Online Business Forum (VOBF) 2018 was successfully held in two cities Hanoi (March 14th, 2018) and Ho Chi Minh City (March 16th, 2018) that attracted the participation of many agencies, organizations, companies and individuals in the e-commerce field. The Forum created the opportunity to exchange new trends in online business, prominent technology, innovative business ideas and introduced new market research results relating to e-commerce to help participating companies adjust their strategy accordingly. The Forum was also a time for administrative bodies to look back and review the policies to better suit the market.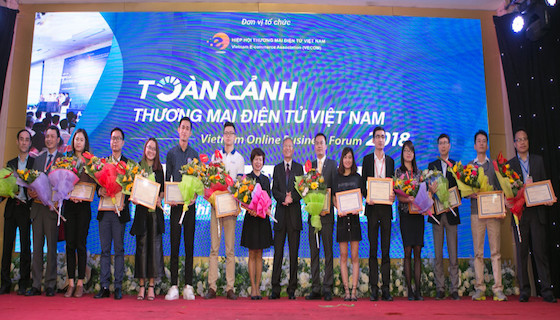 This year's Forum consisted of four topics: The Age of Connecting and Sharing, Key Issues in Online Business, The Effect of Technology to E-commerce, and Successful Entrepreneur with E-commerce. Besides, the event also introduced the Vietnam E-Business Index (EBI) 2018. The EBI 2018 was constructed based on four pillars: Infrastructure and Resources, B2C transactions, B2B transactions, and G2B transactions. The report also offered findings about new trends in e-commerce for 2018, researched and summarized by VECOM.
Some figures from the Forum:
2.500+ delegates participated
100+ communication agencies participated in and reported about the Event
30+ reputable speakers
Millions of people reached through online channels
VECOM sincerely thanked for the sponsorship and support from its close members for VOBF 2018: Mat Bao, Nielsen, Zalo, Amazon, PA Viet Nam, VnPost, VNPay, Vinaphone, Napas, Vietinbank, Grab, Chili, Haravan, VietjetAir, Fado, FTC, Bizweb, Accesstrade, Netco, NetNam, VietGuy, Vinalink, IMGroup…
VECOM.