March 7 in Hanoi, Workshop Policy Aspects for Vietnam Digital Economy Development was co-organized by the Ministry of Industry and Trade and World Bank Group.
At the opening of the ceremony, Mr. Cao Quoc Hung - Deputy Minister of Industry and Trade said, we are living in a world which increasingly shaped by the industrial revolution 4.0 leading by profound changes in Technology and Digitalization, that has a profound impact on global trade, economic growth, and social progress.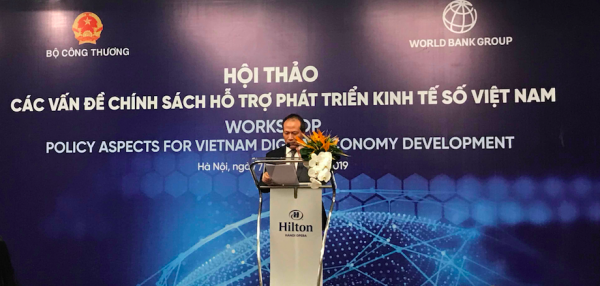 Mr. Cao Quoc Hung- Deputy Minister of Industry and Trade
According to Deputy Minister Cao Quoc Hung, the industrial revolution 4.0 contributed significantly to the global transition of the digital economy. There are many different definitions of the digital economy, understood as "the network of global economic and social activities that are built and played on the basis of information and communication technologies, such as the internet, mobile network and sensor network".
On the other hand, the workshop shared views and experiences on how to support small and medium enterprises in taking advantage of the digital economy in many different aspects, namely: e-commerce, technology, finance, innovation...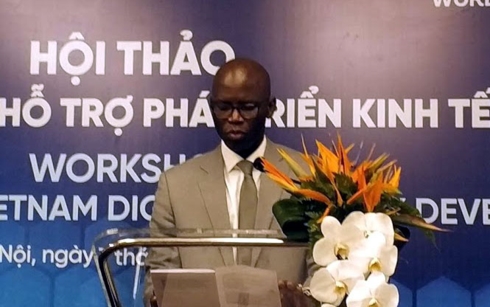 Mr. Ousmane Dione- Director of World Bank.
According to Mr. Ousmane Dione, the digital economy is changing globally. Breakthrough technology changes in data collection, storage, access, analysis, and presentation. Improve production techniques to increase performance such as 3D printing, robot technology, providing services such as e-Government, digital finance.
Remarkably, Breakthrough technology was also available in Vietnam and especially Vietnam didn't hang behind on breakthrough technology. This is evident through strong growth, first of all in the service sector.
Ousmane Dione also pointed out that digital payment is an important part of the digital economy when 19% of those who hold primary accounts access the internet. This is a great opportunity for East Asia to develop.
Policies that promote trust play a crucial role in increasing participation in the digital economy. Therefore, it is necessary to strengthen the digital skills of the people, ensuring the benefits and opportunities of the digital economy to everyone. In addition, improving the education system to better adaption to the changing needs of the market.
VECOM.